Here's What's Happening at JETAA Toronto:

Join JETAA Toronto as we descend on Boston for the world's largest English-Japanese bilingual career fair:  the Boston Career Forum!
Over 200 multinationals will be looking for candidates with a wide variety of career and language skills, often with a quota to fill.  For more details on the main event, check out 
careerforum.net/en/event/bos/
A Roadtrip for Everyone!
Whether you're an N1 ninja, someone looking for a new career path, or are just interested in enjoying this lively weekend (11/17-19) in Boston in November, join us for our 2nd annual road trip.
We'll be meeting up with our friends from JETAA New England for the social events they build around this Japanesey weekend, including a pub night and a nihongo dake dinner.
Thrifty Travellers Welcome!
We car pool to keep travel expenses low, so let us know you're interested and we'll help find you a ride that works for you.
A JETAA New England member who works at a local university has secured us dorm accommodations at a great rate!
Preparatory Help Available!
Take advantage of JETAA Toronto's connections with Toronto-based Japanese career support professionals to polish your Japanese resume or rehearse potential interview scenarios.
Greetings to all members of JET Alumni Association from the staff of the Prime Minister's Office of Japan.
We are pleased to announce that we have published on the JapanGov official government website (http://www.japan.go.jp/tomodachi/) "We are Tomodachi," Summer 2017, a digital publication that introduces initiatives by the Japanese Government and attractions of Japan.
The featured topic in the Summer 2017 issue is "Raising the Banner of Free Trade." We focus on Japan's international trade, with articles that highlight Toray Industries' investments in the U.S. for its carbon fiber business, the market for foreign automobiles in Japan, and Japan's efforts to boost exports of agricultural, forestry and fishery products and foods.
Other articles in this latest issue cover such topics as Rugby World Cup 2019 taking place in Japan, and the opening of "Japan House" as an overseas point for communicating Japanese culture.
We hope you will find the contents interesting and enjoyable to read.
Free Trade and Global Investments Create Win-Win Relationships Across Borders http://www.japan.go.jp/tomodachi/2017/summer2017/free_trade_and_global_Investments_create.html
Foreign Auto Manufacturers Making Rapid Advances in Japan http://www.japan.go.jp/tomodachi/2017/summer2017/foreign_auto_manufacturers_making.html
Japan Boosts Exports with "Aggressive Agriculture" Strategy http://www.japan.go.jp/tomodachi/2017/summer2017/japan_boosts_exports.html
Hosting the First Rugby World Cup in Asia http://www.japan.go.jp/tomodachi/2017/summer2017/hosting_the_first_rugby_world_cup.html
Japanese Culture Comes Alive at Japan House in Sao Paulo http://www.japan.go.jp/tomodachi/2017/summer2017/japanese_culture_comes.html
We strongly hope that as many people as possible find the time to read the newsletter and deepen their understanding of Japan. These materials are also being introduced digitally through the Government's official Facebook page and Twitter account. We hope that you will share the content widely with your friends and acquaintances.
Facebook www.facebook.com/JapanGov
Twitter @JapanGov
We welcome opinions from readers. Please feel free to send us any comments at the following address: public.relations@cas.go.jp
*You can visit the URL below to terminate your subscription to this newsletter or change the email address at which you receive it: https://www.mmz.kantei.go.jp/tomodachi/unsubscribe.php
Kintetsu International Express Inc. is currently seeking a qualified candidate to fill a full-time sales representative position! For more details, please visit http://canada.kiecan.com/en/hr-sales/ 
Applications are due August 31st, 2017. Please send them along to hhirota@kiecan.com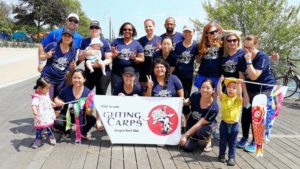 Are you interested in paddling in a group of 20, getting fit, having fun, and raising JETAA Toronto spirit? Our dragon boat team, the Fighting Carps, is looking for more paddlers for its 2017 season.
Join the team for six practices on Tuesday evenings from approx. 
6-9 pm
 at 1 Humber Bay Rd. in Toronto and participate in the GWN Dragon Boat Challenge on 
Saturday September 9 and Sunday September 10th
 at Marilyn Bell Park. Email 
carps@jetaatoronto.ca
 if interested.
Nikkei Voice Business Manager (full-time)
Description
Located within the vibrant Japanese Canadian Cultural Centre, Nikkei Voice is in the midst of an exciting period of transition, as we move our storied publication towards the digital space. We are looking to add a personable, enthusiastic, and business-savvy member to our team! The successful applicant will have the opportunity to work as a key part of a small, dedicated team, building bridges across the Japanese Canadian community.
We want someone who can hit the ground running with new and innovative ideas to drive readership, grow advertising revenue online and in print, provide financial reports, manage payroll, operations, and fiscal year-end tax, and help grow our digital footprint.
Desired Skills & Experience
The successful applicant must have a sound understanding of bookkeeping practices, including familiarity with Intuit Quickbooks, Microsoft Access, Google for Business, the production of monthly financial reports (including spreadsheets, banking and payroll records), and reporting and accounting documents for fiscal year-end purposes. He or she must be highly organized and detail-oriented. An additional and essential task is the operation and management of subscriber information.
This role requires strong communication skills, both over the phone and in person, in support of our valued subscribers. Specifically, the focus would be on maintaining our existing print subscriber base while growing our online presence through cross-platform marketing strategies and advertising. Knowledge of Japanese Canadian history and culture are an asset.
The Business Manager has the opportunity to work with the Managing Editor in maintaining and contributing to the print publication, Nikkei Voice's website (www.nikkeivoice.ca) and social media channels (facebook.com/NikkeiVoice, @TheNikkeiVoice).
Salary
Salary: $30,000
Qualifications:
• Bachelor degree in business management
• Knowledge of fiscal-year end practices
• Experience driving advertising revenue for print and online
• Strong communication and customer-service skills
• Familiarity with databases, Intuit Quickbooks and Microsoft Access
• Highly organized and detail-oriented
• Solid work ethic
• Team player
• Interested in event planning
• Open to Japanese cuisine
• Sense of humour
Company Description
Founded in 1987, Nikkei Voice is a national Japanese Canadian newspaper and an important publication for Japanese Canadian expression and communication. It's published 10 times a year in Toronto by the Nikkei Research and Education Project of Ontario, and operates as a non-profit organization. Issues are 16 pages and published monthly from February to June and September to November. Two 20-page double-issues are published in summer and winter.
***
Interested applicants are asked to send their resume and cover letter to: editor@nikkeivoice.ca by July 14th, 2017. All applicants are welcome.