Here's What's Happening at JETAA Toronto:
Come one, come all! JETAA Toronto is having our first ever axe throwing event at the BATL Grounds – Backyard Axe Throwing League. The session and fee will include coaching and practice, followed by a round-robin tournament and a play-off final to determine the champion! Registration and tickets will go on sale soon, so look out for more information on our Facebook page.
Here are the details regarding the event:
Location: BATL Grounds, 33 Villiers Street
Date: Thursday September 11, 2014 @ 7pm
Duration: 2.5-3 hours
Cost: $35 for members; $40 for non-members
REGISTER NOW: https://guestlistapp.com/events/279759
If you're still not sure what an axe-throwing competition looks like, check out this article on BlogTO. It'll convince that it's a pretty awesome sport!
REQUIRED:
#1) Proper footwear is a must. Closed-toe shoes are mandatory. Sandals and flip flops are not permitted. Heels are not recommended. Please where a comfortable, loose-fitting top that will not restrict arm or upper body movement.
#2) BYOB and/or food – Alcohol is permitted but no hard liquor and no glass!!
Should you have any questions, contact – events@jetaatoronto.ca
For the second year, the Kurakake Company presented Matsuri, an annual summer festival held at Yonge-Dundas Square on Sunday, July 27, 2014. Matsuri this year was bigger and better than the previous year with more Japanese community organizations and companies participating in the celebration of Japanese culture.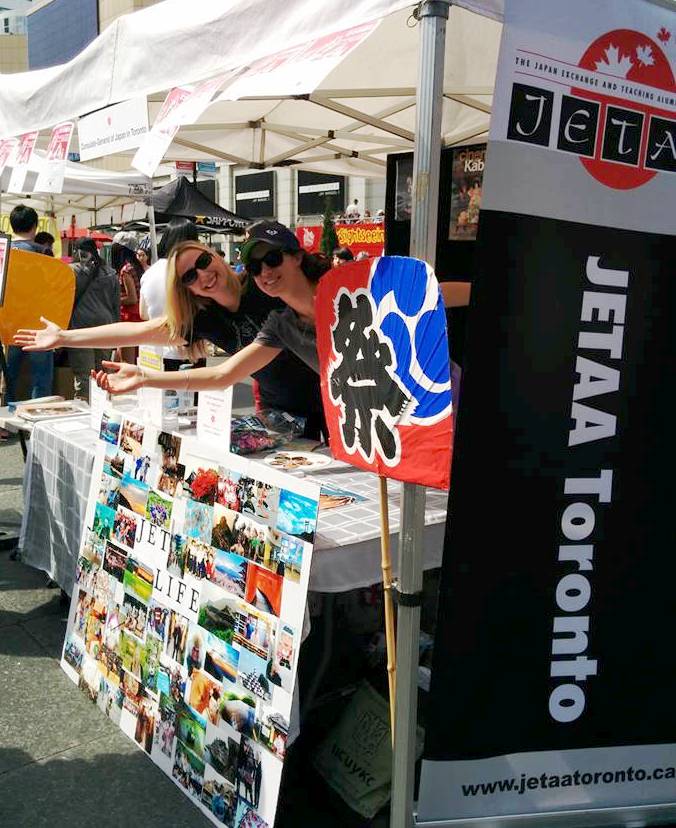 Continue reading →
Last year's MATSURI was received with such amazing success that it's back for a second year at  Toronto's Yonge-Dundas Square! And this year will be even better, with live music and dance performances, a Japanese gourmet food market, and a newly added fashion show.
And best of all, the festival is open to the public and free for everyone.
JETAA Toronto and the Consulate-General of Japan will be there throughout the day at our shared booth in the square. Be sure to check it out and the many great activities the Consulate will be demonstrating.
As for tradition, JETAA Toronto hosted its annual Japanese cooking class for departing JETs as part of their Japanese cultural training. This year, the cooking class was held on Wednesday, July 9th between 5:30-8pm at the Trinity St. Paul's United Church at Yonge-Spadina. Around 25 participants, including new JETs, JETAA and JAVA volunteers turned up to cook up a storm in the tiny community kitchen.
Upcoming Event: JETAA Axe Throwing
Have you been looking for that one summer sport to rule them all? Search no longer. We at JETAA like to have you covered for all your novelty sport needs.
This mid August, JETAA axe throwing is coming your way!
Look for more information in our next newsletter and on our Facebook page here. 
*Lumberjack shirt neither required nor discouraged.