Here's What's Happening at JETAA Toronto:
Have you ever wanted to bounce through the air while whipping and dodging cylinders of rubber in a friendly but intense game of skill? Well then we have just the event for you!
***UPDATE: PROGRAM CHANGE – COST IS NOW $21 – EVENT IS FROM 8:45pm TO 11:00pm – EVERYONE WELCOME – NO NEED FOR E-MAIL RSVP – BUY TICKETS ONLINE/ON-SITE AND WE'LL SEE YOU THERE!
***
Come join JETAA Toronto for a fun filled evening of bouncing and merriment on Saturday, March 28th! Everyone is welcome, so feel free to bring your friends and impress them with your mad trampolining skills! The event time has changed, and will now take place from 8:45pm to 11:00pm – bouncing starts at 9:00pm – and the price is only $21! We get 90 minutes of bouncing and access to all of the Sky Zone facilities, as well as some delicious food to keep us energized!
Sky Zone Highlight Video:
Purchase your tickets online at: http://goo.gl/UlSSZR
*Choose March 28 at 9:00pm*
*Sky Socks must be purchased at the location for $2.25*
Details:
Start Date/Time: Saturday, March 28, 2015 9:00 PM (be there for 8:45pm to sign waivers)
End Date/Time: Saturday, March 28, 2015 11:00 PM
Waivers can be signed online to save time upon arrival: https://torontostore.skyzone.com/waiver/WaiverInfo.aspx
Description from Sky Zone: "Saturday nights just got way more awesome. Grab your friends and rock the courts all night for one low price. SkySlam, Ultimate Dodgeball, the Foam Zone and more are all there to get you flying, spinning and flipping out. This isn't your typical night out, so get ready to fly high!"
– 90 minutes of jump time
– Two pizza slices & a soda per person
– Music, friends & plenty of awesome
– Ages 16+ only!
Who: Everyone is invited, so call your friends!
Cost: $21 (after tax), $2.25 for Sky Socks (mandatory)
RSVP: Click JOIN on the Facebook group – we'll see you there!
Carpool: Post on the Facebook Page if you need a ride or can give someone a lift!
Sky Zone Website: http://www.skyzone.com/ca/toronto/Calendar/tabid/6038/ModuleID/13060/ItemID/118104/mctl/EventDetails/Default.aspx
In case you have any questions, please send an e-mail to events@jetaatoronto.ca
We're looking forward to seeing you there!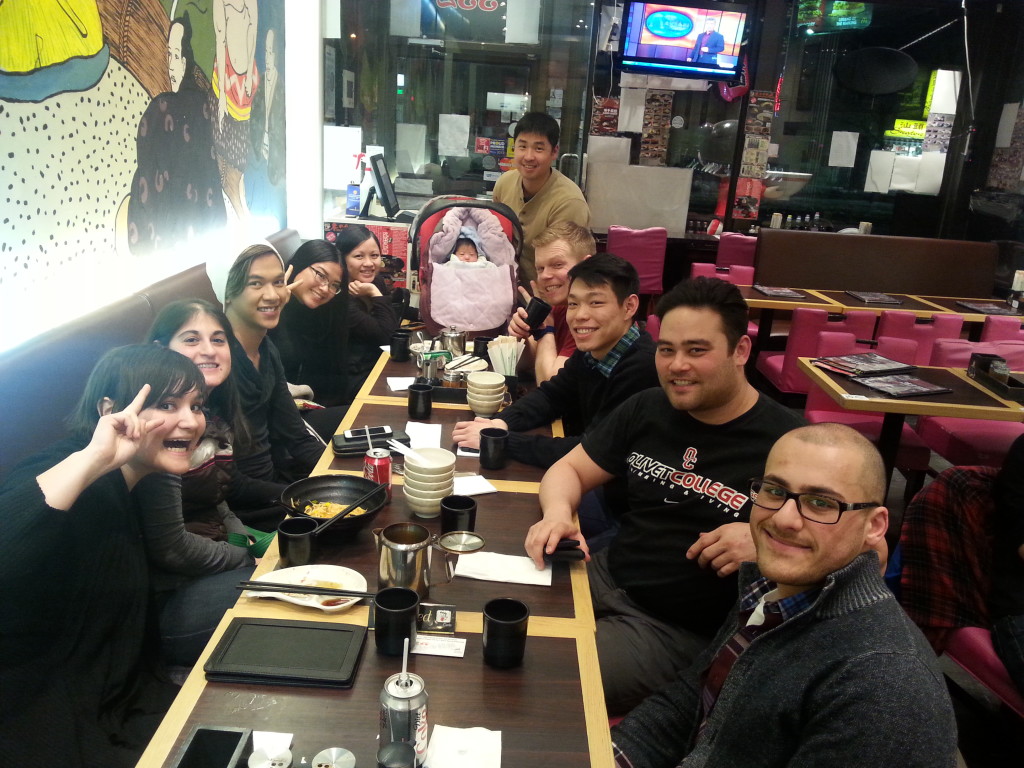 Ramen Romp #3 in February was a great success with 10 adults and 1 baby showing up! Thanks to everyone who came out.
If you are feeling like your belly is craving some rameny goodness we are having our Ramen Romp #4 very soon. Here are the details:
When: March 19th, 6:30pm
Where: Ramen Isshin at 421 College (near Bathurst)
RSVP: torontoramenlove@gmail.com
We hope to see you there!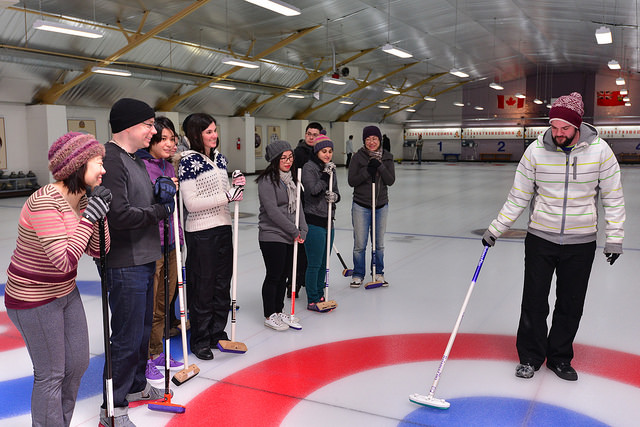 The 2015 JETAA Toronto Annual Midnight Curling on Saturday, February 21st was a rocking success for the fourth year in a row, with over 30 JETAA members and friends were in attendance. We kicked the night off with a trip to the nearby Loons Public House, then headed straight for the High Park Curling Club. Many thanks to the club for hosting us once again.
Continue reading →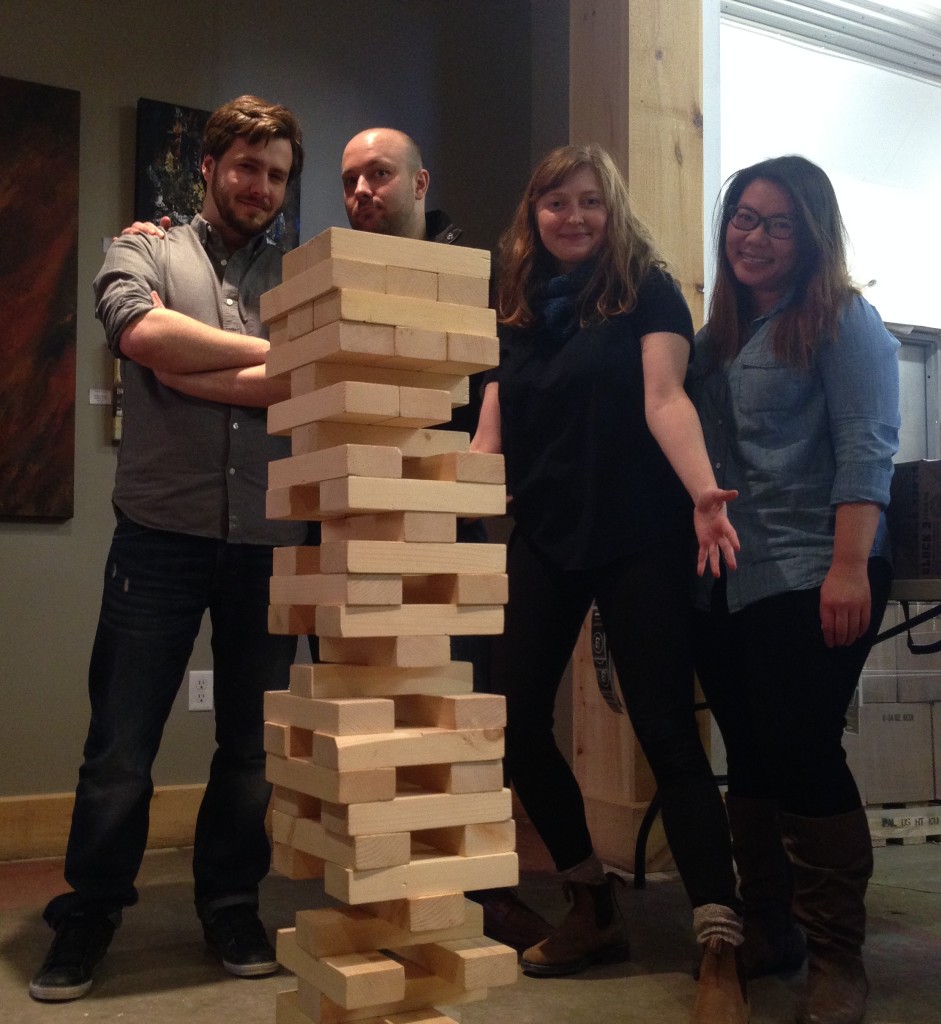 On Saturday, February 28, a motley crew of Toronto JETAA members set off for a new land, known only by a mysterious acronym: KW. They had heard tales of ex-JETs living in this strangely-named land and were determined to find them. They piled into cars, with only a Google map and a map sent by a KW JET to guide them.
After an arduous journey, they arrived at St Jacob's Market. They had read that this market offered many tasty treats, from sausage to hummus to extravagant apple fritters. While all manner of snacks were consumed, the mysterious KW JETs were yet to be found. Continue reading →
Yes, YOU are being asked to join in and be a part of the JETAA Toronto Logo redesign!!!
We want your design input for our new logo which will be featured on the JETAA Toronto website, banner, and other JETAA Toronto materials. We are hoping for thoughtful designs that display the characteristics of JETAA and Toronto/southern Ontario. We are looking for a fresh approach – don't feel restricted by our current colour scheme or logo. Submissions should be high resolution and designed with flexibility for varying use in mind (e.g. portrait and large for a banner, landscape and smaller for letterhead/business card, etc.). If you have any questions regarding the format, please contact Sabrina.
Submission Instructions
What: New JETAA Logo Toronto
When: March 15th, 2015 – soon!

How: Please submit the file to Events Coordinator Support, sabrina.silk22@gmail.com or events@jetaatoronto.ca , by email or through G-Drive
Important Legalese
We are unable to offer compensation, except in the form of recognition and gratitude! If your submission is selected as the winner, you agree to provide JETAA Toronto exclusive worldwide rights to use or alter the image in any format, including digital retouching as required. The selection process will be conducted by the JETAA Toronto Executive Committee.