Here's What's Happening at JETAA Toronto:
Last year's MATSURI was received with such amazing success that it's back for a second year at  Toronto's Yonge-Dundas Square! And this year will be even better, with live music and dance performances, a Japanese gourmet food market, and a newly added fashion show.
And best of all, the festival is open to the public and free for everyone.
JETAA Toronto and the Consulate-General of Japan will be there throughout the day at our shared booth in the square. Be sure to check it out and the many great activities the Consulate will be demonstrating.
As for tradition, JETAA Toronto hosted its annual Japanese cooking class for departing JETs as part of their Japanese cultural training. This year, the cooking class was held on Wednesday, July 9th between 5:30-8pm at the Trinity St. Paul's United Church at Yonge-Spadina. Around 25 participants, including new JETs, JETAA and JAVA volunteers turned up to cook up a storm in the tiny community kitchen.
Upcoming Event: JETAA Axe Throwing
Have you been looking for that one summer sport to rule them all? Search no longer. We at JETAA like to have you covered for all your novelty sport needs.
This mid August, JETAA axe throwing is coming your way!
Look for more information in our next newsletter and on our Facebook page here. 
*Lumberjack shirt neither required nor discouraged.
It's that exciting time of the year when newly selected JETs are getting ready to leave for their new life as ALTs or CIRs in Japan. It's not hard to remember similar feelings of ecstatic and anxious anticipation of the journey that awaits them. And along with the excitement comes the craziness of trying to get ones life, luggage and paperwork in order before leaving Canada for an unspecified amount of time.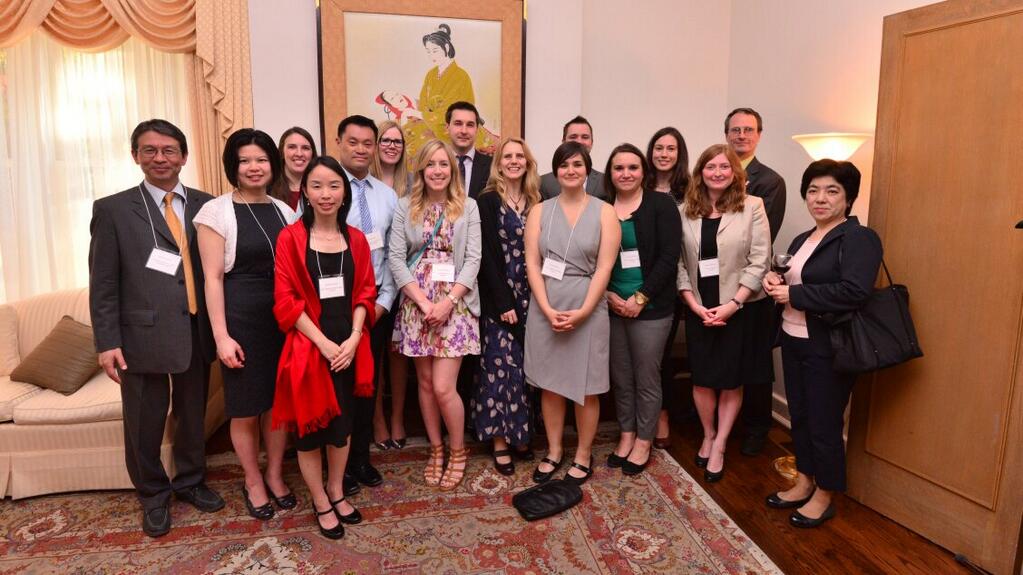 Each year representatives from the seven Canadian JETAA chapters come together for CanCon, which is a conference hosted by annual rotating chapters and gives delegates a space for discussing the successes and hardships faced by individual chapters. It is also a great time for idea sharing and networking amongst the JET Programme Alumnus across the country, building better bridges between Canadian JETAA Chapters. The 2013 CanCon was held and hosted by the Quebec/Atlantique chapter in Montreal, with the 2014 CanCon scheduled to rotate to the Manitoba/Saskatchewan chapter in Winnipeg. Due to limited capacities, though, the conference was re-scheduled to be hosted by JETAA Toronto at the Japan Foundation, in coordination with the Consulate-General of Japan and CLAIR New York. The conference was held Friday June 6 to Sunday June 8, and focused on career development and mentorship initiatives. This article gives a quick summary of what the event was all about and what was discussed throughout the weekend.