Here's What's Happening at JETAA Toronto:
JETAA Toronto is proud to announce the first event in this year's Culture Series: Get Your Nihonshu On! An Educational Sake Tasting Tour at the Ontario Spring Water Sake Company on Saturday, June 1, 2013.
JETAA Toronto has reserved 2 private, expert-guided tasting tours at the Ontario Spring Water Sake Company. The tasting tour consists of an overview of the sake brewing process, raw materials and equipment, followed by a guided tasting of several of their freshly-brewed unpasteurized and pasteurized sakes. The tasting tour takes about 1 hour and includes a souvenir IZUMI sake tasting cup.
Looking for a fun, new way to get fit this summer? Why not join the JETAA Fighting Carps dragon boat team?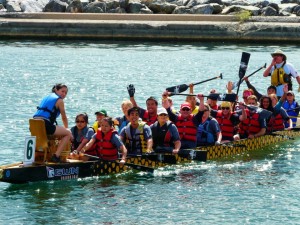 Photo: Patricia Nip
Only three spots remain on the 22-person boat. Beginners are welcome and no equipment is necessary.
The Fighting Carps paddle every Wednesday along the shore of Lake Ontario at the Sunnyside Paddling Club, located near Lake Shore and Park Lawn. Weekly practices start in mid-June and run for 10 weeks. Continue reading →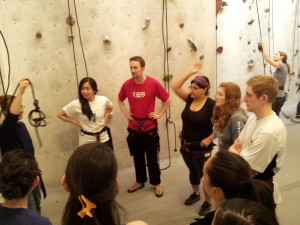 Smiling through an afternoon of verticality, JETAA Members and friends took to the walls and climbed and clawed their way to a fantastic time on Saturday, April 13, 2013. Continue reading →
Did you enjoy sharing Canadian culture with Japanese students?  Would you like to share the awesomeness of Japanese culture with Canadian school children?
The Consulate General of Japan is looking for some volunteers to assist with occasional school visits over the next couple of months.  Continue reading →
Thanks to everyone who responded to the PDOT call for volunteers thus far!  We have more details about PDOT. Also, don't forget that we'll be holding a nijikai on the Saturday, more details tba.
Date: June 22-23
Location: Japan Foundation in Toronto.
Interested volunteers should email the Conference Coordinator at conference@jetaatoronto.ca by May 31, 2013.
Continue reading →