Do you know…? (今月のおすすめ) – Tea Edition
This is a new column for the new year, a chance to hear or tell about about pop cultural things of interest that others may not know about Japan. You know the kind of thing… Indie bands. Must-have foods. Must-avoid foods. Kigurumi onesies. The sort of thing where you turn to someone over a bowl of ramen (which is how this column was created) and say "Do you know…?" and it leads into a wild explanation and everyone saying "え〜〜〜〜〜???"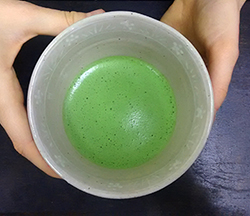 I'm a tea junkie and I'm starting things off, so I'll begin with the following:
Do you know Hōnsai, the retired iemoto of the Urasenke school of tea, used to be a kamikaze pilot? With the guy who later became the retired daimyo in the Mito Komon TV series? Hōnsai's bitter wartime experiences led him to seek a gentler way, exporting chanoyu to the world as a global peace initiative: "peace through a bowl of tea". The Asahi Shimbun just did a multi-part profile of him last summer and it makes you wish he was your grandad. He's just that kinda guy.
Bonus tea thing from Helen Kong: Do you know the Ocha Morishiki giant tea bowl ceremony in Nara? At Saidaiji on the 15th of January every year, they whisk up giant communal bowls (30 – 40 cm in diameter) of matcha to share. The whisk they use is the size of a housecat. People who drink the tea sometimes need help to support the bowl because it's anime-big. I desperately want to try this!
Now it's your turn. Tell us what you know that we totally SHOULD know. Write me at sorliemadox@gmail.com, and we'll dazzle the JETAA world with your knowledge!