Career Roundtable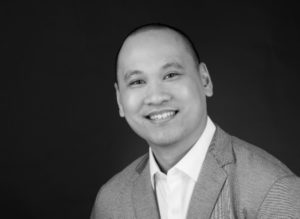 The 2017 Career Roundtable is coming up this Friday, November 10. Find out more here. Register to attend here.
(Industry: Business/Finance/Accounting/Management)
Presentation Topic: From ALT Life to a Career in Business Management: Stepping Stones, Inspiration and Insider Tips.
JET Placement: Kumamoto-Ken/Kumamoto-shi & Yatsushiro-shi (2001-2006)
JETAA Exec Position: Glen previously served on JETAA Toronto in various roles as Treasurer Support, Treasurer, and as a 2009-11 Co-Chair and credits much of his development to his experiences on the JET Programme.
Bio: Glen is the Business Manager for the University of Toronto Libraries central system. As a member of the Chief Administrative Officer (CAO) leadership team, he performs across various library business and accounting functions including: high-value enterprise level procurement; capital/IT/operational projects; accounting/financial reviews and analysis; process improvements; business analysis; and internal auditing. He is a Chartered Professional Accountant (CPA, CGA), Master of Education (MEd), and recently attained his Project Management Professional (PMP) credentials.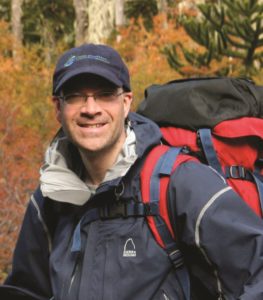 The 2017 Career Roundtable is coming up this Friday, November 10. Find out more here. Register to attend here.
Presentation Topic: Following Your Passion and Finding Your Path: How Unconventional Choices Can Shape Your Career.
A non-linear approach to career building can be scary, uncertain, sometimes baffling—and can lead you to the most satisfying and engaging work you could hope for.
Bio: A co-founder of Verge Magazine and the Go Global Expo, Jeff is a well-known voice in the area of international working, studying and volunteering and was writing about gap years before the term even appeared the Canadian Oxford Dictionary. Having worked, studied and travelled on six continents, Jeff is passionate about the important role international experience plays in developing responsible, caring global citizens. He has spoken to audiences across Canada and the United States on subjects ranging from how to plan an international volunteer experience, to developing effective media skills and literacy.
Free to attend! RSVP here: https://goo.gl/forms/A3PCE5k10YGMS2jw2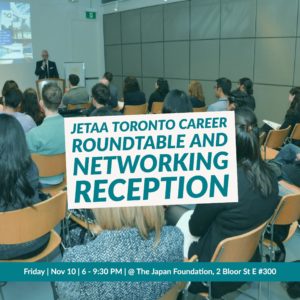 Recently returned and wondering about your next step? Been back for a while but looking to start a new career? We're here to help.
The 5th annual JETAA Career Roundtable is coming up this November. With support from the Consul-General of Japan in Toronto, the event is designed in two parts. In the beginning of the evening, professionals from various sectors will speak to their respective fields. This will be followed by a networking reception to further engage with industry representatives.
In the past, we've had professionals speaking about education, tourism, finance, healthcare, sales and marketing, entrepreneurial, communications, and the non-for-profit industries.
2017 JETAA Toronto Career Roundtable and Networking Reception on Friday November 10 (Kindly Respond by Friday November 3):
https://goo.gl/forms/JLIvLZquMSeEUIRt2
Event Date: Friday November 10, 2017
Event Time: (exact timing subject to change)
JETAA Toronto Career Round Table 6 – 8:30 pm
JETAA Networking Reception 8:30-9:30 pm
Event Address:
The Japan Foundation, Toronto
2 Bloor Street East, Suite 300
P.O. Box 130
Toronto, Ontario, Canada M4W 1A8
http://jftor.org/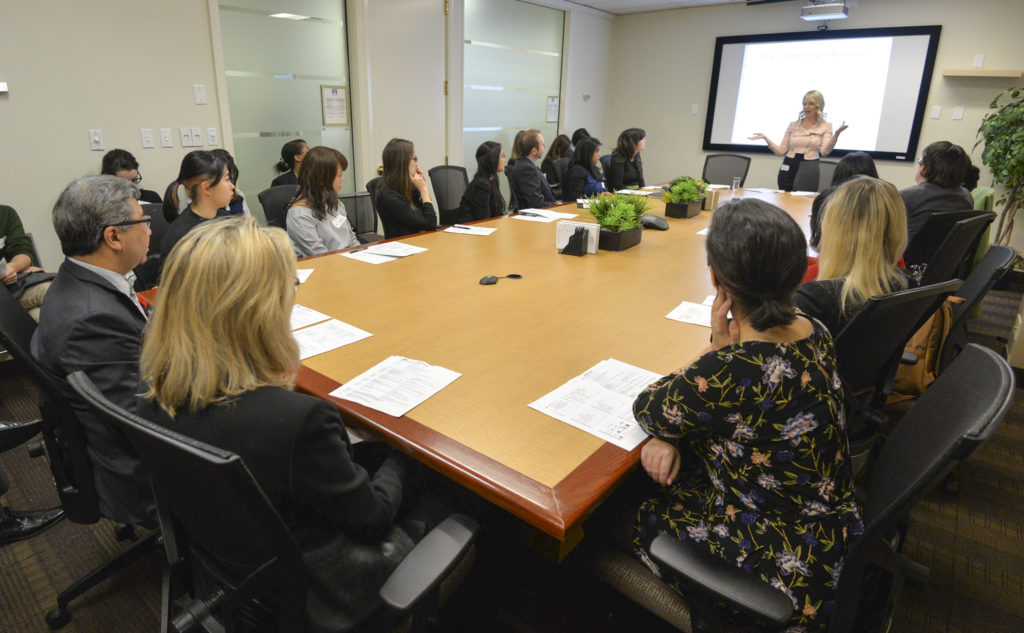 By Nadine Bukhman
The fourth annual JETAA Career Roundtable was held on Thursday, November 10. This year we once again had a great turnout, with recently returned JETs, as well as more established members looking for career inspiration.
The 2016 Career Roundtable is coming up this Thursday, November 10. Find out more here. Register to attend here.
Career Roundtable Speaker: Kamara Toffolo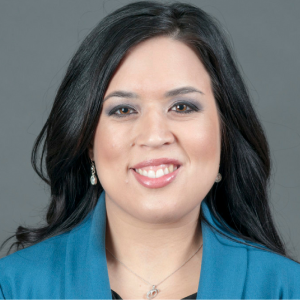 Presentation Topic: Tell Your Story to Get Hired!: How to Stand Out in Today's Job Market
JET Placement: Annaka-shi, Gunma-ken (2007-2008))
JETAA Position: Prior Membership Assistant, Executive Committee
Bio: Kamara Toffolo is a career coach who helps her clients DARE to do work DIFFERENTLY!  Whether a mid-career professional looking to level up at work, a side-hustling entrepreneur itching to take their passion project full-time, or a leader yearning to make a difference. Kamara helps her clients create careers they love. She is a 'career storyteller'. Kamara takes your own unique career story, and crafts an awesome resume and LinkedIn profile that highlights your strengths and accomplishments, while honoring your authentic journey. After working with Kamara, her clients get interviews in a matter of weeks! In her previous life, Kamara spent 12 years in the financial services and technology industries working for corporations of all sizes.  She is an Erickson Certified Professional Coach and graduate of the internationally-acclaimed Erickson College, and holds a Bachelor of Commerce degree in Entrepreneurial Management. Kamara has been a featured writer and expert in many publications including Forbes, Business Insider, Inc., and The Daily Muse to name a few. Kamara credits her time as a JET with helping her refine her skills in workshop facilitation, speaking and presenting, and listening like a BOSS which is essential in her line of work. As well, teaching English to students who ask the toughest questions about language rules allowed Kamara to develop a very strong appreciation for English and a heightened attention to detail which she brings into her writing services and speaking engagements.