Featured Articles
By Geoffrey Greig
Director Yuki Tanada's film, My Dad and Mr. Ito (お父さんと伊藤さん) had its North American premiere on November 10th, and JETAA Toronto was proud to be one of the community co-presenters for the film. The film was well-attended at the Japanese Canadian Cultural Centre, and seemed to very much engage the audience.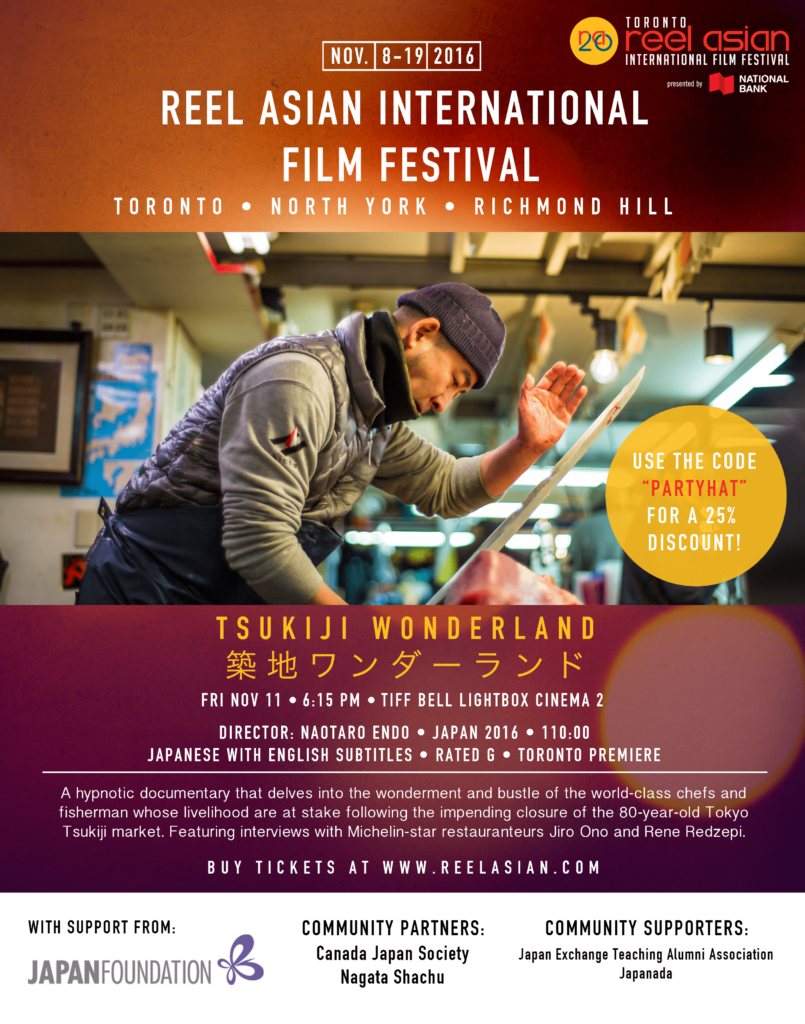 By Amy Uyeda
JETAA Toronto was proud to be one of the co-presenters of Tsukiji Wonderland, which was screened as part of the Reel Asian Film Festival. Now celebrating its 20th anniversary year, Reel Asian continues to bring Asian cinema to Toronto. This screening was the Canadian premiere of Tsukiji Wonderland and the first Reel Asian film to be shown in the TIFF Bell Lightbox theatre.
By Maurice Kumalo (Kumamoto ALT 1999-2002).
According to Hollywood, robots will change the world into a machine-centric dystopia. In the real world you may have heard that robots will change the workplace. The truth is they already have and not just on the manufacturing floor. The Atlantic, Foreign Affairs, The New York Times and others media outlets have covered how machines will change the workplace. If you are a job seeker of any sort – that includes JETs of all stripes – you need to know how they are changing it now. Continue reading →
This is a new column for the new year, a chance to hear or tell about about pop cultural things of interest that others may not know about Japan. You know the kind of thing… Indie bands. Must-have foods. Must-avoid foods. Kigurumi onesies. The sort of thing where you turn to someone over a bowl of ramen (which is how this column was created) and say "Do you know…?" and it leads into a wild explanation and everyone saying "え〜〜〜〜〜???"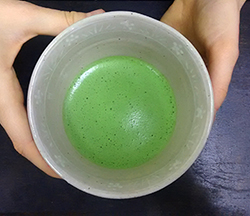 I'm a tea junkie and I'm starting things off, so I'll begin with the following:
Do you know Hōnsai, the retired iemoto of the Urasenke school of tea, used to be a kamikaze pilot? With the guy who later became the retired daimyo in the Mito Komon TV series? Hōnsai's bitter wartime experiences led him to seek a gentler way, exporting chanoyu to the world as a global peace initiative: "peace through a bowl of tea". The Asahi Shimbun just did a multi-part profile of him last summer and it makes you wish he was your grandad. He's just that kinda guy.
Bonus tea thing from Helen Kong: Do you know the Ocha Morishiki giant tea bowl ceremony in Nara? At Saidaiji on the 15th of January every year, they whisk up giant communal bowls (30 – 40 cm in diameter) of matcha to share. The whisk they use is the size of a housecat. People who drink the tea sometimes need help to support the bowl because it's anime-big. I desperately want to try this!
Now it's your turn. Tell us what you know that we totally SHOULD know. Write me at sorliemadox@gmail.com, and we'll dazzle the JETAA world with your knowledge!
Article by Katie Yantzi (JET 2011-2013, Akita Prefecture). Reprinted with permissions from Archenemy Magazine. 
Just steps away from the bustle of Kensington market lies a quiet haven of art from across the Pacific. Though the actual degree of quiet depends on what's spinning from the record player. Paradise Bound (270 Augusta Ave.) is a shop that sells a fascinating pairing of things owner Grey Coyote loves most: good tunes and good old Japanese art.
"Old" is definitely the operative word here. Coyote has rare original works dating from the eighteenth century, which likely once belonged to samurai. The intricately designed pieces adorning the shop's walls are known as kakejiku, meaning "hanging scroll," and they can fetch anywhere from $100 to $3000.
"There are many artisans involved in the whole process," says Coyote as he points out the various components of each scroll—the handmade silk; washi, meaning the sturdy Japanese paper; the delicate ink scenes; and jikusaki, the roller ends used to hold the scrolls in place. Finally, one artisan, "a mounting artist, much like our framing artists", assembles the final scroll.