Featured Articles
Article by Katie Yantzi (JET 2011-2013, Akita Prefecture). Reprinted with permissions from Archenemy Magazine. 
Just steps away from the bustle of Kensington market lies a quiet haven of art from across the Pacific. Though the actual degree of quiet depends on what's spinning from the record player. Paradise Bound (270 Augusta Ave.) is a shop that sells a fascinating pairing of things owner Grey Coyote loves most: good tunes and good old Japanese art.
"Old" is definitely the operative word here. Coyote has rare original works dating from the eighteenth century, which likely once belonged to samurai. The intricately designed pieces adorning the shop's walls are known as kakejiku, meaning "hanging scroll," and they can fetch anywhere from $100 to $3000.
"There are many artisans involved in the whole process," says Coyote as he points out the various components of each scroll—the handmade silk; washi, meaning the sturdy Japanese paper; the delicate ink scenes; and jikusaki, the roller ends used to hold the scrolls in place. Finally, one artisan, "a mounting artist, much like our framing artists", assembles the final scroll.
Article by Patricia Nip
When I first met Mike Connolly in November of 2011, we were in the living room of a reclaimed house in Ishinomaki.  I had just arrived for a week of volunteering in the tsunami ravaged coastal region just north of Sendai.  During the grand tour, I was told that I was in good company because there were two other Canadians in the house that was serving as the headquarters for the volunteer group It's Not Just Mud.  The first one that I met had been my ride from the train station, and now I was meeting the mysterious Mike.  As we were introduced, I couldn't shake a strange sense of déjà vu.
A few days later, Mike and I were sent off together on a tsunami clean up request.  We made our way to what used to be the Kikuchi family's small family business.  Their simple wish was to regain access to the second floor of the building, where their family had lived before the tsunami debris filled the first floor and made it impossible to access the stairwell.  It was during the course of our path clearing, potentially tetanus causing endeavours that the mysterious source of my déjà vu became clear to me.  Mike Connolly, was Mike-sensei… Continue reading →
JETAA Toronto and JAVA Toronto are proud to present NAKAMICHI/MIDDLE DISTANCE, an art exhibition featuring Japanese and English speaking artists. Focused on the idea of interpreting the idea of middle distance, JET alumni will present their interpretations of the theme along side other artists.
In anticipation of NAKAMICHI/MIDDLE DISTANCE, JETAA Toronto is excited to share profiles of seven very talented JET alumni artists who will be participating in the show. From ceramics to photography and illustration, it's always amazing to see the variety of artistic talents from our members! Continue reading to see just some of the amazing artwork that will be exhibited and take a look at some of our very own JET Alumni featured this year.
NAKAMICHI/MIDDLE DISTANCE Artist Profiles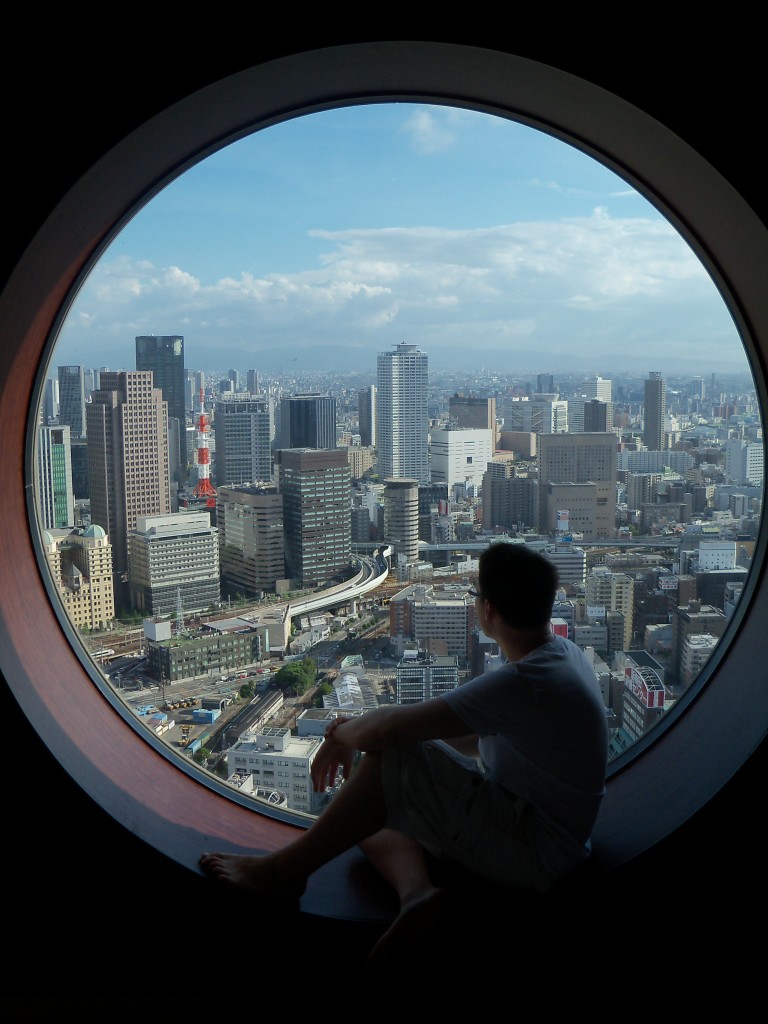 Umeda Sky Building Osaka (August 2010)
"So how is Canada?"
"Uh… Toronto is quite good…"
I've had this conversation in some form or other countless times since I landed in Japan three years ago. Anyone who's visited Japan knows that Japanese people are naturally curious about your home country or will often ask for recommendations upon planning a trip there. When they directed their curiosity towards me, however, I found myself at a loss.
"Where do you recommend going in Canada?"
"I hear BC is nice. I think you can see the aurora in the north. Anne of Green Gables takes place in PEI… maybe?"
You see, before I came to Japan I was utterly uninterested in travelling (especially my own country, yuck!). Though my friends would go on about their amazing Eurotrips and getaways to the Caribbean, I scoffed in secret, deploring such wastes of money. Seeing the world just didn't seem worth it, and the whole cult of 'investing in experience' was a first class ticket to financial woe in my mind.
But I did want to see what all the fuss was about. And after deciding that a PhD and a life of academia wasn't for me after finishing my Master's, moving to Japan seemed like the quickest way to jump into the deep end. So I applied to JET. Continue reading →
Compiled by JETAA Memeber Nicholas Jones
So you're freshly back to the GTA from Japan, and you've had some time for the reverse culture shock to wear off. Like many JET Alumni, you are probably beginning to crave a Japanese fix. Fortunately, you're landed in the right place. Though there is no cohesive "Japan Town" in Toronto, the city boasts a remarkable number of Japanese restaurants and izakayas that are so authentic they'll have you screaming "NATSUKASHI!" shortly after you walk through their doors. Here is a short list of some favourites that have been put forward by JETAA members: