JETAA Event Reports
By: Maegan Cheng
Did you know that Canada's reference library was designed by Raymond Moriyama? Or that mural outside of Sanko was done by four Japanese artists? Have you ever spotted the cherry blossom trees on the University of Toronto campus?
On Saturday September 30th, JETAA Toronto celebrated the 30th Anniversary of the JET Programme with a sweet scavenger hunt around our beautiful city. Teams raced against the clock and across town, decoding clever clues to find locations to snap their shot and check off their lists. Armed only with TTC day passes and their wits, any of the teams could have triumphed! Congratulations to our winning team – Vesper and Liz – who took their prize in Japan-related stuff!
All participants were winners though as they found our lovely volunteers at selected store locations. JETAA bought the teams taiyaki, onigiri, and small trinkets to relive those halcyon days in Japan at select stores including Muji, Sanko, PAT, and Things Japan.
The time of reckoning came at the Duke of York where we welcomed back the teams and and returning JETs, transitioning into the Returner's Pub Night. Celebrating a fun-filled day with an evening of snacks and camaraderie, it was a great time to play some Cards Against Humanity, make new friends and catch up with the awesome human beings that are former JETs.
While the day officially ended there, Nuit Blanche provided an exciting nijikai for all who had some energy left. Charming and thought-provoking displays were erected across the city to capture hearts and minds.
Author: Carl Sachs
All photos taken by Scott Kawaguchi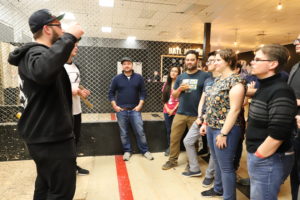 On Saturday October 14th, JETAA Toronto ventured out to BATL Grounds Back Yard Axe Throwing League in Galleria Mall for our fourth annual axe throwing tournament. Although we lacked plaid shirts and flannel, we tried our best to tap into our inner lumberjack, and chuck axes at wooden targets in a way that would make a proper woodsperson proud.
We had 16 JETs and JET friends participate in the event, with more than half of the attendees being new to the sport of axe throwing. After an enthusiastic lesson on axe throwing rules, tips, and etiquette from the BATL staff, we practiced chucking some axes around (with varying degrees of success). We then faced-off in a spirited round-robin qualifying competition, followed by a final-round tournament for the top-seeded axe hurlers.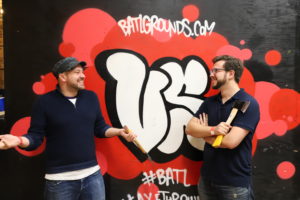 Carl (left) and Anthony (right), both JETAA members and former co-workers, were shocked to find themselves in the finals, and faced-off in an intense tournament finale. With the score tied after 3-rounds, the tournament went into sudden death! No – not that kind of sudden death… The tournament would be decided by the throwing of the "Big Axe".
Carl's luck had finally run out, and, with a powerful and decisive throw, Anthony stuck the target, won the tie-breaker, and was named the 2017 JETAA Axe-Throw-Houdai Champion!
Big thanks to everyone who came to the event, and to Scott Kawaguchi for taking some amazing photos! If you've never been axe throwing before, it's not nearly as dangerous as it may sound, and a ton more fun than you may think. We're always looking for new and interesting events, so keep checking the JETAA Toronto FB event page, newsletter and website to see what's happening in the coming months!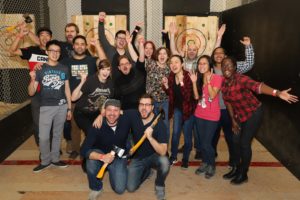 By: Amy Uyeda
Mokuhanga is the form of Japanese woodblock printmaking using intensely pigmented water-based inks. This method is used to make Ukiyo-e prints, which remain one of the most prominent forms of Japanese art celebrated throughout the world. On Saturday, August 26, 2017 JETAA held the first ever Beginner Mokuhanga Woodcut Printmaking Workshop. The one-day workshop allowed 12 participants a glimpse into the technical aspects of this printmaking method. The workshop was held in a studio in Artscape Youngplace on Queen St West, and taught by artist instructor Elizabeth Forrest. Elizabeth studied mokuhanga extensively in Japan under renowned artist Akira Kurosaki, who actually designed some of the barrens we used in the workshop. She is one of the leading printmakers working in mokuhanga in Canada.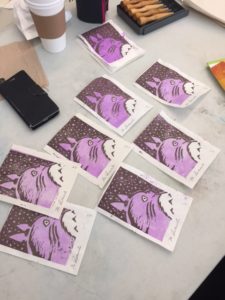 The workshop included explanations and print presentations. There were also demos throughout the day in enabling participants to learn a simplified version of the mokuhanga method of printmaking. Participants had a chance to make completed 2-layer prints, and to try their hands at each step of the process. The suggested theme was dogs, as next year will be the year of the dog and mokuhanga prints can be used as nengajo (Japanese New Year postcards). First, a basic image design is decided upon and transferred to the woodblock. Then the task of carving begins. A first layer is inked, and every piece of paper is printed. Then, to make a reduction woodblock print, some of the woodblock from the first layer image is carved away to create a new surface for the second layer of ink to be printed.
This hands-on event was a great opportunity for participants to learn a uniquely Japanese art-making method. Getting just a taste of this technique makes one realize how masterful Ukiyo-e prints are and how time-consuming they are to make, deepening our understanding of this form. We had to work quickly to carve and print within a limited amount of time, but fortunately everyone left with a completed set of prints. The resulting prints looked great!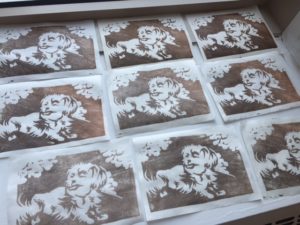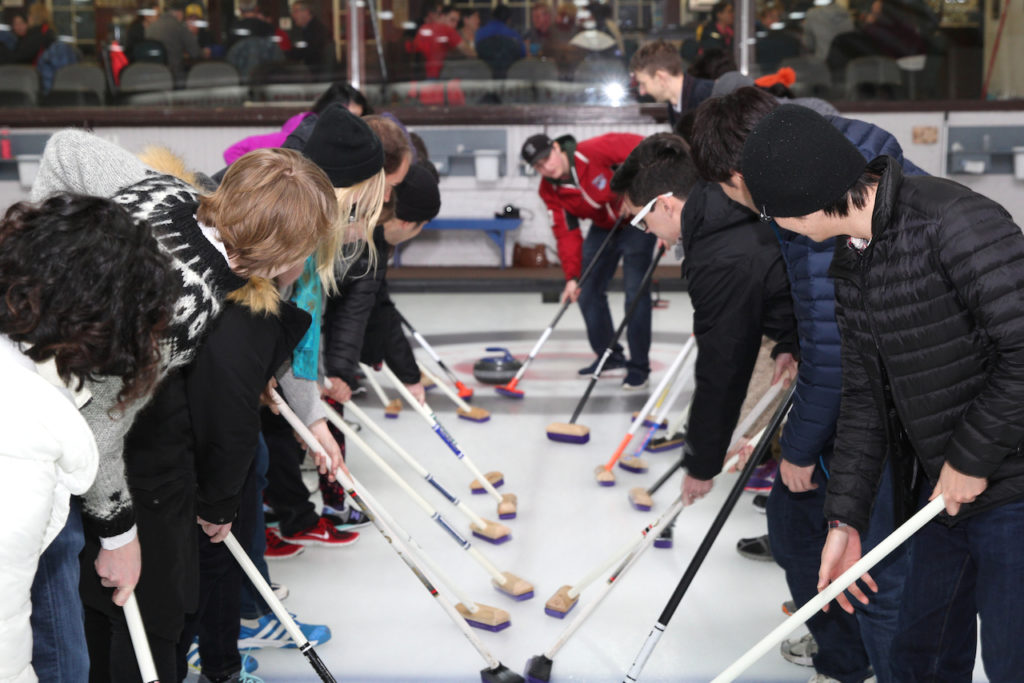 By Stephen Branston
The 2017 annual JETAA Toronto Midnight Curling event was a fantastic success, with just under 30 attendees sweeping the night away. Before the big event, our lovely dinner locale, Loons Restaurant & Pub, had enough delicious food and drinks for everyone to stay steady on the ice!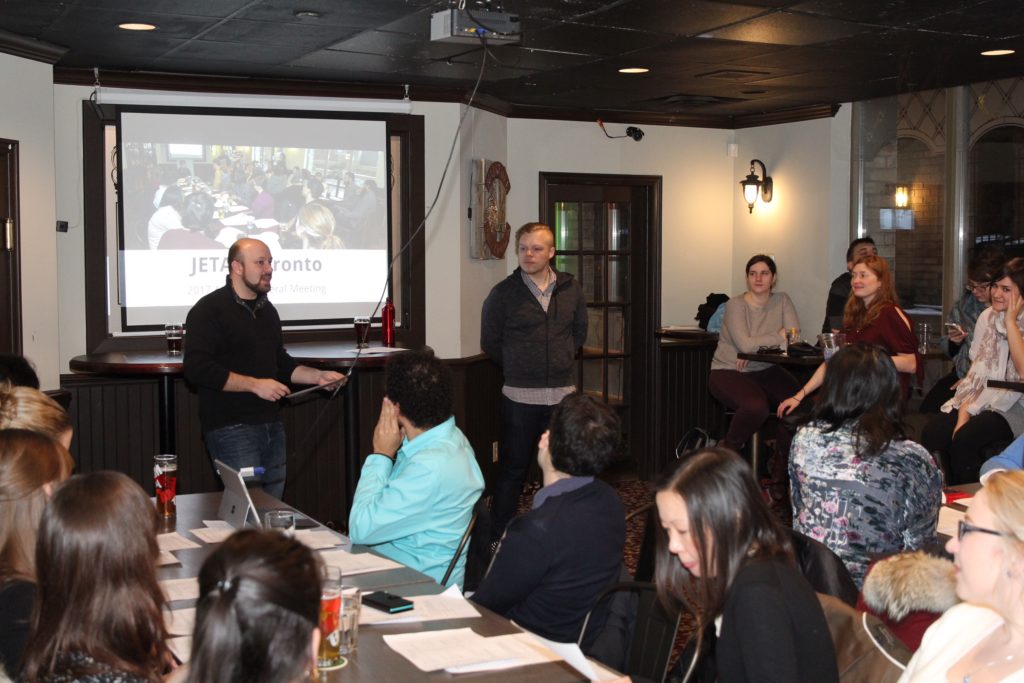 By Nicholas Jones
On the evening of Saturday, January 28th, some 30 JETAA members piled into the party room at the Bloor Street Fox and the Fiddle for our 2017 Annual General Meeting (AGM). To kick things off, Carl Sachs and I shared with the membership all of the activities JETAA had undertaken in 2016, updated them on the organization's finances, and then got down to the business of electing the new members of the executive for 2017.