JETAA Event Reports
By: Amy Uyeda
Mokuhanga is the form of Japanese woodblock printmaking using intensely pigmented water-based inks. This method is used to make Ukiyo-e prints, which remain one of the most prominent forms of Japanese art celebrated throughout the world. On Saturday, August 26, 2017 JETAA held the first ever Beginner Mokuhanga Woodcut Printmaking Workshop. The one-day workshop allowed 12 participants a glimpse into the technical aspects of this printmaking method. The workshop was held in a studio in Artscape Youngplace on Queen St West, and taught by artist instructor Elizabeth Forrest. Elizabeth studied mokuhanga extensively in Japan under renowned artist Akira Kurosaki, who actually designed some of the barrens we used in the workshop. She is one of the leading printmakers working in mokuhanga in Canada.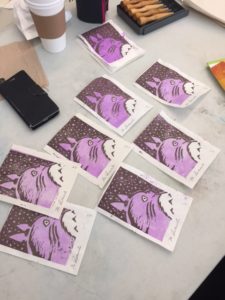 The workshop included explanations and print presentations. There were also demos throughout the day in enabling participants to learn a simplified version of the mokuhanga method of printmaking. Participants had a chance to make completed 2-layer prints, and to try their hands at each step of the process. The suggested theme was dogs, as next year will be the year of the dog and mokuhanga prints can be used as nengajo (Japanese New Year postcards). First, a basic image design is decided upon and transferred to the woodblock. Then the task of carving begins. A first layer is inked, and every piece of paper is printed. Then, to make a reduction woodblock print, some of the woodblock from the first layer image is carved away to create a new surface for the second layer of ink to be printed.
This hands-on event was a great opportunity for participants to learn a uniquely Japanese art-making method. Getting just a taste of this technique makes one realize how masterful Ukiyo-e prints are and how time-consuming they are to make, deepening our understanding of this form. We had to work quickly to carve and print within a limited amount of time, but fortunately everyone left with a completed set of prints. The resulting prints looked great!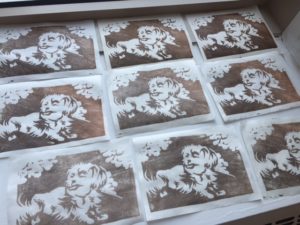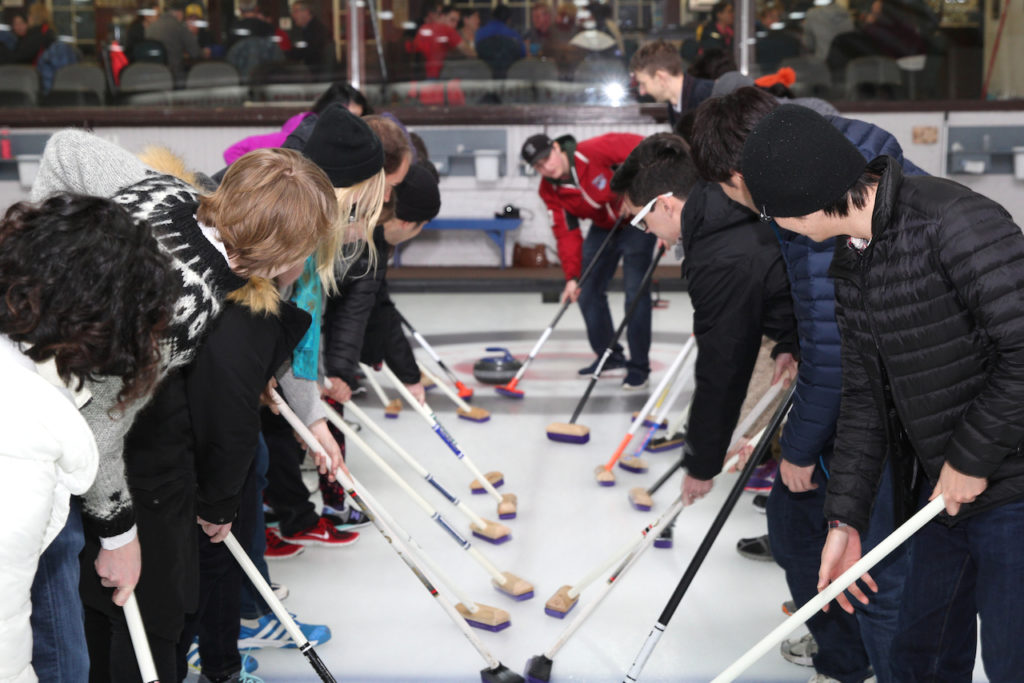 By Stephen Branston
The 2017 annual JETAA Toronto Midnight Curling event was a fantastic success, with just under 30 attendees sweeping the night away. Before the big event, our lovely dinner locale, Loons Restaurant & Pub, had enough delicious food and drinks for everyone to stay steady on the ice!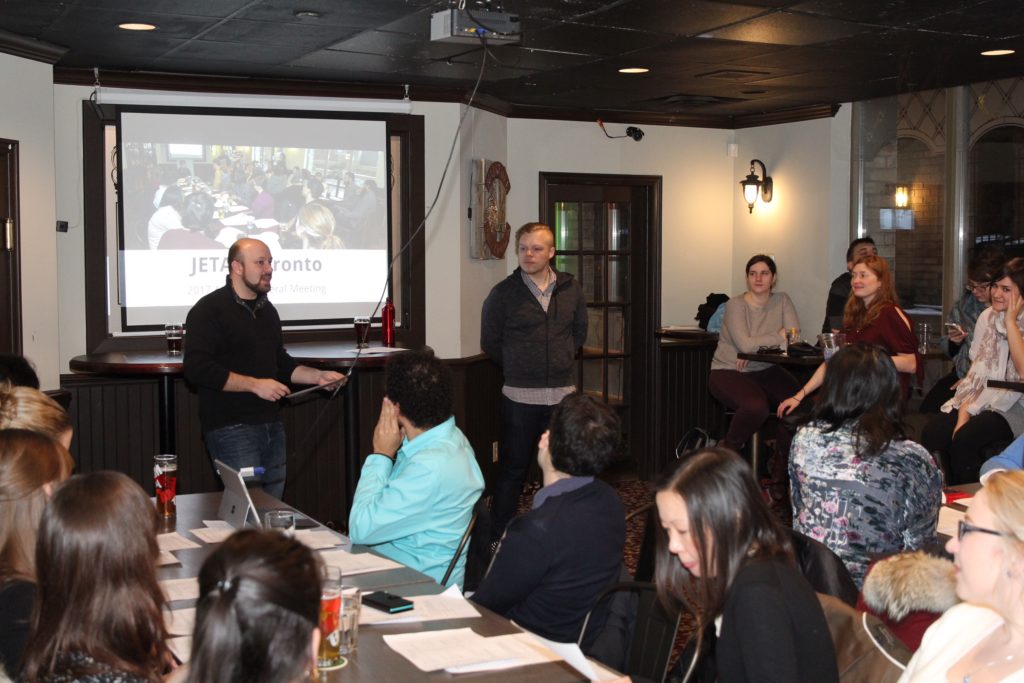 By Nicholas Jones
On the evening of Saturday, January 28th, some 30 JETAA members piled into the party room at the Bloor Street Fox and the Fiddle for our 2017 Annual General Meeting (AGM). To kick things off, Carl Sachs and I shared with the membership all of the activities JETAA had undertaken in 2016, updated them on the organization's finances, and then got down to the business of electing the new members of the executive for 2017.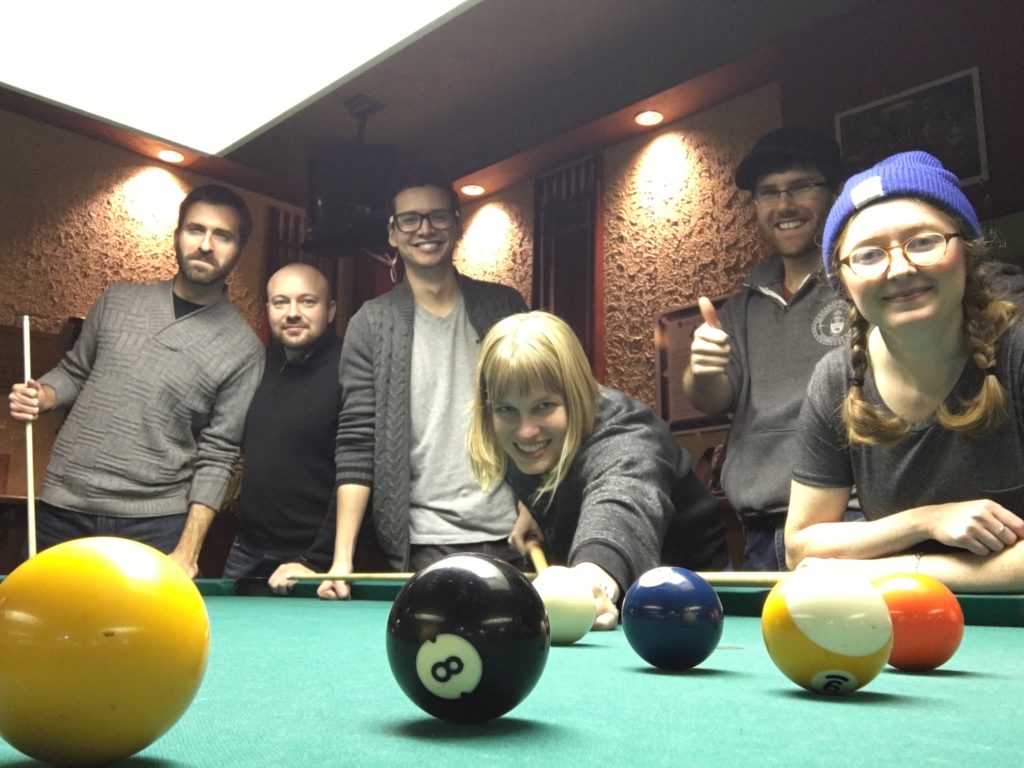 By Stephen Branston
With nerves of steel and a totally suave demeanour, our JETAA members dove into the shark pool for a great time at the Annex Billiards Club. We were joined by the chair of JETAA Ottawa, and were able to discuss some inter-chapter events in the pipeline while making some SWEET shots!
Please keep your calendar open for February 10th, as we finalize plans for our next social!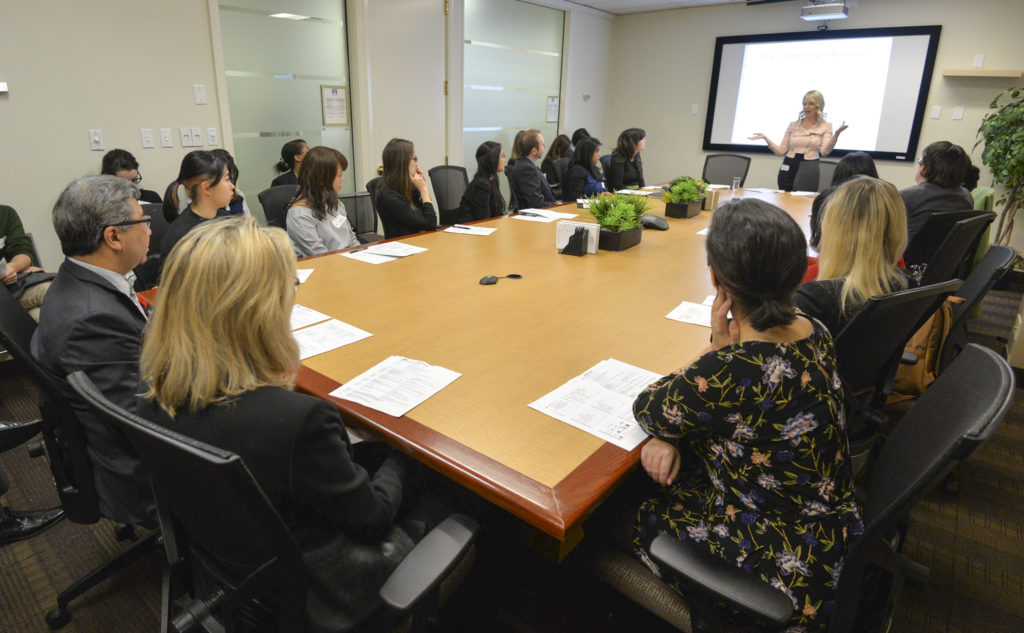 By Nadine Bukhman
The fourth annual JETAA Career Roundtable was held on Thursday, November 10. This year we once again had a great turnout, with recently returned JETs, as well as more established members looking for career inspiration.