JETAA Events
It's that time of the year again — the largest Japanese Festival in Canada "Japan Festival CANADA 2017" will be held on August 26th and 27th!! This year's event will include a ceremony to celebrate Canada's 150th anniversary. Let's celebrate this special day together!
Also, as one of the main features of the event, the "Canada – Tokyo Talent Competition", will be held. The event is open to all talented Canadians. The winner will be awarded a round trip airline ticket to Japan, will be eligible to perform at many Canada-Japan collaboration events, have a chance to make their debut in Japan, and more!
We are looking for talented Canadians; it may be you! If you are confident in any category, be sure to send in an application!
ENTRY DEADLINE: Canada Day July 1, 2017
Venue: Japan Festival CANADA 2017 performance stage
Date: August 26th (Sat)  2017 (It may change to August 27th (Sun) 2017)
Final Judges/Panels: TBA
WINNER AWARDS
A free round flight ticket to Japan
Chance to perform at Canada-Japan events
Chance to debut in Japan
For more information, visit:
Japan Festival CANADA 2017: https://japanfestivalcanada.com/
Talent Competition: https://japanfestivalcanada.com/talent-competition/
Presented by Japan Expo Canada Inc.
Supported by Tokyo Tourism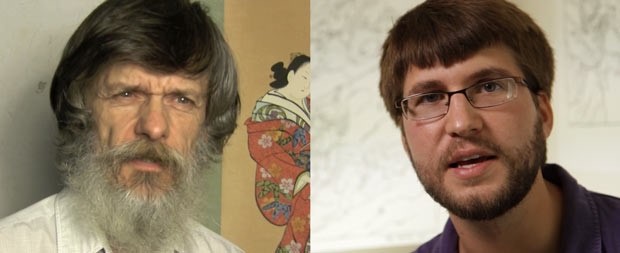 By: Amy Uyeda
On May 2nd, 2017 the Toronto Hot Docs film festival hosted the world premiere of Ukiyo-e Heroes as part of a special programme of Made In Japan films. Ukiyo-e Heroes is a film about woodcut printmaking master David Bull and his collaboration with graphic designer Jed Henry.
David Bull is an English-born Canadian artist who lived in Toronto before moving to Japan permanently in the mid-1980s. He said he first learned of Ukiyo-e prints in Stuart Jackson Gallery in Toronto. David Bull has a strong online presence, including many instructional Youtube videos about his woodblock printmaking practice and his Tokyo live-work space.
Last year, I had the privilege of meeting David Bull at Edo Day, an event hosted by the Consulate of Japan in Toronto at the ROM. David was at the tail end of a 5-hour printing session, having not stopped for an obento lunch break. He is truly a printing machine! He was graciously printing 4-colour demo prints and giving them to eager visitors to his table.  I met a young couple who were longtime fans and customers of his prints and who had driven to Toronto from Rochester, NY just to meet him in person. He warmly greeted them, and it was inspiring to see young collectors because it showed how approachable David is and that his prints are actually quite affordable. David's generosity reflects his dedication to upholding the original intent of Edo-era Ukiyo-e prints: the dispersion of fine art and popular culture among the masses, without clear delineations between the two. For this reason, he does not number or edition his prints. He keeps the woodblocks from which the prints are created and reprints images after their initial runs.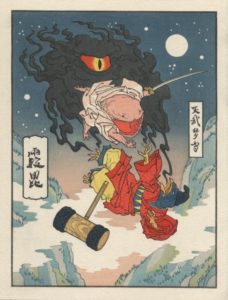 The documentary cuts between interviews with David Bull in his Tokyo studio and Jed Henry in his Utah home and studio, as well as their skype communication. Jed approached David a few years ago after learning of his work online. After a few tenacious attempts at proposing a collaboration, David agreed, and so began their Ukiyo-e Heroes endeavor.  Using imagery from Japanese video games such as Super Mario, Megaman, Pokemon, Kirby, and Shadow of the Colossus,  Jed creates the initial concept design, using video game characters and storylines to compose a narrative image inspired by elements of Edo-era Ukiyo-e prints.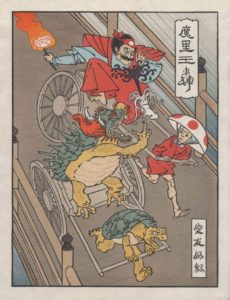 In Ukiyo-e Heroes, David Bull states that the unique quality of Edo art can be summarize in one word –  線 せん –  line. So much visual information is conveyed through the carefully considered line-work of Ukiyo-e artists such as Hokusai, Hiroshige, Yoshitoshi, and Utamaro, to name a few.  Jed creates the original image in digital form, lays the brushwork by hand, then sends scanned images to David. David must think as printmakers do: in layers. He must conceptualize a plan to carve blocks corresponding to each layer of the image, while considering colour separations and the culmination of the overall finished impression. In this way, the finished Ukiyo-e Heroes prints are a pure combination of the line of Jed and David.
Now there are fewer than 10 Ukiyo-e artists printing in Japan. This art form which is considered by many as 'the face of Japan' is a uniquely Japanese traditional form of printmaking. Toronto is fortunately home to a few practicing Mokuhanga – woodblock printmaking artists.
If this timeless and fascinating form of Japanese printmaking piques your interest, please stay tuned for updates about a Beginner Mokuhanga Workshop which will be offered in August 2017!
For more information about Ukiyo-e Heroes prints, and info about David Bull and Jed Henry, click here.
For more information about the Ukiyo-e Heroes documentary, click here.
The call for platforms for JETAA Canada's Country Representative has begun and we're looking for interested candidates! The Canada Representative is the primary point of contact to Canada's various chapters and represents our country at the JETAA-International level, as required. See the attached PDF for further details on the Canada Rep's responsibilities.
Candidates are asked to submit a platform that states the following:
Experience with JETAA
Vision for future of JETAA chapters in Canada
Action plan for year ahead and ideas to strengthen JETAA Canada
All platforms should be submitted to Chris Moore, the Returning Officer, at c.philip.moore@gmail.com by May 10th by 23:59 EST.
The schedule of 2017's elections is as follows:
Returning Officer calls out for Platforms: May 3
Election Platforms due: May 10
Platforms collected and sent to chapters: May 11
Voting closes: May 19
Returning Officer publishes results: May 20
Cut-off time will be 23:59 Eastern Time Zone on the day mentioned above.
Click here to download PDF.
The Consulate-General of Japan is currently recruiting for a media assistant in the Information and Cultural Section.
Overview of the position
Under supervision of the Information and Culture Section Director, the media assistant carries out a variety of assignments in support of Japan's public diplomacy functions and goals, in addition to performing a variety of administrative tasks for the Information and Culture Section.
Qualifications
Good knowledge of Japanese culture and its society, and is eager to promote them in Canada
Can communicate in both Japanese and English
Strong skills in use of Microsoft Office (Word, Excel and Power Point) and other commonly used software
Is in good health
Holds Canadian citizenship or permanent residency status
Contract Period
From mid-May (tentative) to March 31st, 2018.
Regular working hours
In principle, for seven hours a day from 9 am to 5 pm, excluding one-hour lunch break, from Monday to Friday, excluding holidays (there may be times when it will be necessary to work after 5 pm, on weekends or public holidays.)
Salary
To be determined through interview
How to Apply
Please submit your CV (in either Japanese or English) as well as names and contact information of two references by e-mail to rsvp@to.mofa.go.jp
Application Deadline
Friday, April 21st, 2017   *There will be an interview for candidates who pass the written application.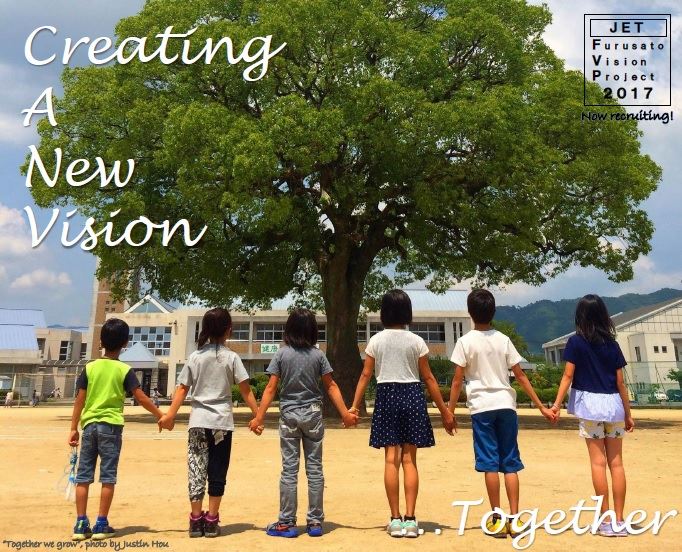 CLAIR has announced the upcoming "JET Furusato Vision Project".
Through this project you can return to your former place of employment on JET, visit places you had strong connections with and reconnect with the community. More importantly, you can develop and implement your own 'Vision Plan' that utilizes the skills and connections you acquired after JET to make new contributions to your former community in areas such as Tourism Promotion, Economic Exchange, Educational Exchange, Culture & Arts Exchange, Grassroots Exchange, Current JET Participant Career Support, or some other project to deepen your ties with your furusato and their ties with the world.
JET alumni whose former contracting organizations are in Western Japan are eligible to apply in 2017. JET alumni whose former contracting organizations are in Eastern Japan may apply in 2018.
Please refer to the project's website for details and download all application forms: http://jetprogramme.org/info/furusatovision/
Any enquiries will be handled by CLAIR Tokyo, JET Furusato Project Administrative Office: furusato@clair.or.jp
This is general information about the project:
Date
Term A: 26 October (Thu.) – 31 October (Tue.), 2017
Term B: 6 November (Mon.) – 11 November (Sat.), 2017
Recruiting
7 JET Programme alumni who were appointed in Western Japan* while on the Programme (see website below for more information)
JET alumni who were appointed in Eastern Japan will be eligible to participate in 2018.
*Kansai Region: Mie, Shiga, Kyoto, Osaka, Hyogo, Nara, Wakayama
Chugoku Region: Tottori, Shimane, Okayama, Hiroshima, Yamaguchi
Shikoku Region: Tokushima, Kagawa, Ehime, Kochi
Kyushu/Okinawa Region: Fukuoka, Saga, Nagasaki, Kumamoto, Oita, Miyazaki,
Kagoshima, Okinawa
How to Apply
Please download all application forms at the link above and submit to furusato@clair.or.jp by 8 May (Mon.), 2017   9:00 A.M. (Japan Standard Time)