Job Posting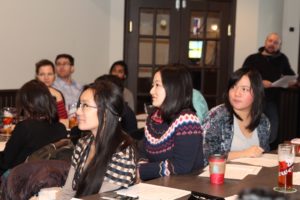 Come out to JETAA Toronto's Annual General Meeting to hang out with fellow JETAA members, eat yummy food, grab a drink, and catch up. We'll be reviewing the past year's events, going over the budget, brainstorming new ideas for the upcoming year, and last but not least, voting on a new executive.
Everyone is welcome! If you are interested in applying for a position, click the link below for a full list of positions with descriptions. If there are multiple candidates interested in a position, be prepared to give a brief statement about why you think you'd be a good fit for the role.
The AGM will be on

Saturday, January 27th from 3:30 to 7:30pm

at The Office Pub, 117 John Street, Toronto.
We hope to see you there!
Kintetsu International Express Inc. is currently seeking a qualified candidate to fill a full-time sales representative position! For more details, please visit http://canada.kiecan.com/en/hr-sales/ 
Applications are due August 31st, 2017. Please send them along to hhirota@kiecan.com
Nikkei Voice Business Manager (full-time)
Description
Located within the vibrant Japanese Canadian Cultural Centre, Nikkei Voice is in the midst of an exciting period of transition, as we move our storied publication towards the digital space. We are looking to add a personable, enthusiastic, and business-savvy member to our team! The successful applicant will have the opportunity to work as a key part of a small, dedicated team, building bridges across the Japanese Canadian community.
We want someone who can hit the ground running with new and innovative ideas to drive readership, grow advertising revenue online and in print, provide financial reports, manage payroll, operations, and fiscal year-end tax, and help grow our digital footprint.
Desired Skills & Experience
The successful applicant must have a sound understanding of bookkeeping practices, including familiarity with Intuit Quickbooks, Microsoft Access, Google for Business, the production of monthly financial reports (including spreadsheets, banking and payroll records), and reporting and accounting documents for fiscal year-end purposes. He or she must be highly organized and detail-oriented. An additional and essential task is the operation and management of subscriber information.
This role requires strong communication skills, both over the phone and in person, in support of our valued subscribers. Specifically, the focus would be on maintaining our existing print subscriber base while growing our online presence through cross-platform marketing strategies and advertising. Knowledge of Japanese Canadian history and culture are an asset.
The Business Manager has the opportunity to work with the Managing Editor in maintaining and contributing to the print publication, Nikkei Voice's website (www.nikkeivoice.ca) and social media channels (facebook.com/NikkeiVoice, @TheNikkeiVoice).
Salary
Salary: $30,000
Qualifications:
• Bachelor degree in business management
• Knowledge of fiscal-year end practices
• Experience driving advertising revenue for print and online
• Strong communication and customer-service skills
• Familiarity with databases, Intuit Quickbooks and Microsoft Access
• Highly organized and detail-oriented
• Solid work ethic
• Team player
• Interested in event planning
• Open to Japanese cuisine
• Sense of humour
Company Description
Founded in 1987, Nikkei Voice is a national Japanese Canadian newspaper and an important publication for Japanese Canadian expression and communication. It's published 10 times a year in Toronto by the Nikkei Research and Education Project of Ontario, and operates as a non-profit organization. Issues are 16 pages and published monthly from February to June and September to November. Two 20-page double-issues are published in summer and winter.
***
Interested applicants are asked to send their resume and cover letter to: editor@nikkeivoice.ca by July 14th, 2017. All applicants are welcome.
Position Overview:
We are looking for a resourceful, driven individual with an eye for detail and native proficiency in English and Japanese. Communication skills are paramount, as well as the ability to adapt to fluctuating requirements and priorities. You take responsibility for the quality of your work and get the job done in the required timeframe. Reporting to the Data Quality Manager, the Data Quality Analyst will directly contribute to the quality of our product: DDIQ. This position is full time for the summer term, with the potential for part time in September.
Responsibilities:
Assess output content and performance of the DDIQ System in one or more language and/or region, in addition to English.

Accurately identify events that may be reported in one or more language and/or region, in addition to language.

Report discrepancies in a concise and timely manner through the appropriate channels.

Maintain a high level of accuracy through active participation in individual tasks and team contribution.
Minimum Qualifications:
Strong command of the English language.

Superior reading skills in English.

Native level reading comprehension of Japanese language.

Proficient ability in Microsoft Office Suite.
Additional Desired Qualifications:
Ability to quickly learn and adapt to a dynamic environment.

Proven attention to detail.

Ability to learn new concepts.
About the Company:
We're a dynamic and rapidly growing software company with a high-performing team. OutsideIQ fosters an open, honest, and cooperative environment where delivery focused teams strive for excellence. The whole team is involved throughout the lifecycle of the project and team members maintain continuous customer collaboration. This is a unique opportunity to work in a rapidly-growing, fast-paced organization that is set to change the way our clients do business. We offer a casual work environment, competitive compensation, and flexible work hours.
Interested Candidates can send their resumes to careers@outsideiq.com
The Consulate-General of Japan is currently recruiting for local staff who will be assisting in the economic and information and culture sections.
1. Overview of the position: To support the activities of the Consulate-General in the fields of economics as well as information and culture.  (Research information, produce documents, etc.)