Restaurant Reviews
Compiled by JETAA Memeber Nicholas Jones
So you're freshly back to the GTA from Japan, and you've had some time for the reverse culture shock to wear off. Like many JET Alumni, you are probably beginning to crave a Japanese fix. Fortunately, you're landed in the right place. Though there is no cohesive "Japan Town" in Toronto, the city boasts a remarkable number of Japanese restaurants and izakayas that are so authentic they'll have you screaming "NATSUKASHI!" shortly after you walk through their doors. Here is a short list of some favourites that have been put forward by JETAA members:
Continuing his search for a great bowl of ramen, Johnson Kong steps into Sansotei Ramen on Dundas.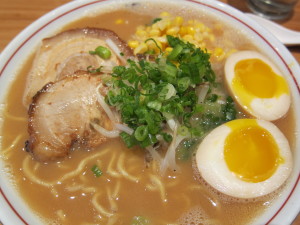 For me, one of the delights on a cold winter day in Japan would be to
step out of the cold and dig into a steaming bowl of noodles at a
corner ramen shop. Nothing fancy about décor or style necessary – a
personal touch of history here and there perhaps. My favourite finds
were the holes-in-the-wall places where you were pretty much sitting
in someone's tatami living room; often there would be an old TV
perched in a corner wafting the bland voice of an NHK announcer
reading the local news.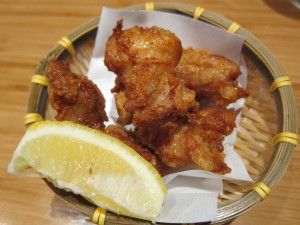 While there isn't a TV (or at least one that I could see, anyway) in
Sansotei, as one of the newest ramen shops on the Toronto scene, it
stands out for its little-ramen-shop feel that I've been looking for
here since returning from Japan. Located on Dundas between Bay and
University, the sign on the store is so small that I walked past it
twice and had to look at what the window-counter singles were eating
to enter. Whereupon, I had to wait in line for one of the 34 seats –
though theoretically more people could probably fit on the benches.
Missing good ramen with an atmosphere to match? Johnson Kong reviews this great new place in Baldwin Village.
Toronto ramen aficionados, rejoice! No longer do our stomachs have to gurgle with hunger and envy as friends in Vancouver or New York gush about their options for restaurants serving Japanese-style ramen. Nor do we have to put up with feeble renditions of "Irasshaimase!" when we enter a Toronto ramen restaurant, or make do with pale limp noodles and chewy char siew pork slices that disappoints our memories of delicious Japanese ramen.
Rajie Kabli's on the search for delicious Japanese food in the GTA. Here's her take on Ikki Sushi in Scarborough.
Standing detached from the nearby strip mall and possessing good signage, Ikki Sushi caught my eye while driving on Kingston Road in Scarborough. I stopped in for lunch to check out their Japanese cuisine.
Walking in, I immediately found the interior decoration to be interesting and actually reminiscent of Okinawa. The obvious Japanese paraphernalia placed generously around the restaurant brought me back to fun quirks that Japan has to offer. They had a cool sake dispenser which made me believe they might even make their own!
Rajie Kabli's on the search for delicious Japanese food in the GTA. Here's her take on Makimono in Pickering.
I had the pleasure of enjoying an All You Can Eat dinner at Makimono in Pickering. Conveniently located off the 401, it is one of Pickering's best kept secrets. Authentic Japanese is hard to find in the city and having lived in Japan we know what "real sushi" tastes like. I've returned back from Japan a few months ago, and can honestly say I have tried many restaurants hoping to recreate some of the fun times I had on the tatami mats. More often than not, I have been disappointed. Luckily, Makimono has given me a new go-to Japanese restaurant that is not too far of a drive for us in the east end of the city.