JETAA Career Roundtable
Free to attend! RSVP here: https://goo.gl/forms/A3PCE5k10YGMS2jw2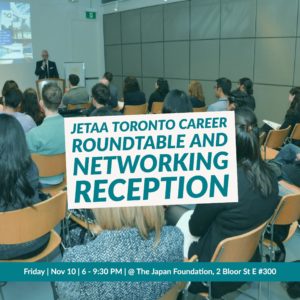 Recently returned and wondering about your next step? Been back for a while but looking to start a new career? We're here to help.
The 5th annual JETAA Career Roundtable is coming up this November. With support from the Consul-General of Japan in Toronto, the event is designed in two parts. In the beginning of the evening, professionals from various sectors will speak to their respective fields. This will be followed by a networking reception to further engage with industry representatives.
In the past, we've had professionals speaking about education, tourism, finance, healthcare, sales and marketing, entrepreneurial, communications, and the non-for-profit industries.
2017 JETAA Toronto Career Roundtable and Networking Reception on Friday November 10 (Kindly Respond by Friday November 3):
https://goo.gl/forms/JLIvLZquMSeEUIRt2
Event Date: Friday November 10, 2017
Event Time: (exact timing subject to change)
JETAA Toronto Career Round Table 6 – 8:30 pm
JETAA Networking Reception 8:30-9:30 pm
Event Address:
The Japan Foundation, Toronto
2 Bloor Street East, Suite 300
P.O. Box 130
Toronto, Ontario, Canada M4W 1A8
http://jftor.org/