Here's What's Happening at JETAA Toronto:
The 2017 Career Roundtable is coming up this Friday, November 10. Find out more here. It's not too late to register to attend here.
(Industry: Post-Graduate Education/Applied Linguistics/ESL)
Presentation Topic:
Going to Graduate School; Teaching ESL and other possible post-JET academic pathways:
JET can lay the foundations for exciting and interesting academic pathways that will lead to stimulating and rewarding careers.
JET Placement: Gifu-ken, 1992-1994
Bio: Eve Haque is Associate Professor in the Department of Languages, Literatures and Linguistics at York University and is currently a visiting professor in Canadian Studies at University College, University of Toronto, as well as the 2017/18 Lillian Robinson Visiting Scholar at the Simone de Beauvoir Institute at Concordia University. Her research and teaching interests focus on language policy, ethnolinguistic nationalism, and language training regimes for immigrants. Eve Haque has supervised approximately 20 PhD and MA students, as well as over 20 research assistants over a range of research projects she has led over the past decade. She currently sits on the Advisory board for the Canadian Association of Cultural Studies. In addition to many book chapters, she has also published in a range of journals.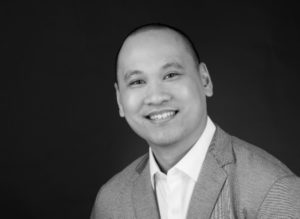 The 2017 Career Roundtable is coming up this Friday, November 10. Find out more here. Register to attend here.
(Industry: Business/Finance/Accounting/Management)
Presentation Topic: From ALT Life to a Career in Business Management: Stepping Stones, Inspiration and Insider Tips.
JET Placement: Kumamoto-Ken/Kumamoto-shi & Yatsushiro-shi (2001-2006)
JETAA Exec Position: Glen previously served on JETAA Toronto in various roles as Treasurer Support, Treasurer, and as a 2009-11 Co-Chair and credits much of his development to his experiences on the JET Programme.
Bio: Glen is the Business Manager for the University of Toronto Libraries central system. As a member of the Chief Administrative Officer (CAO) leadership team, he performs across various library business and accounting functions including: high-value enterprise level procurement; capital/IT/operational projects; accounting/financial reviews and analysis; process improvements; business analysis; and internal auditing. He is a Chartered Professional Accountant (CPA, CGA), Master of Education (MEd), and recently attained his Project Management Professional (PMP) credentials.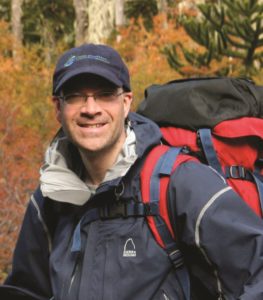 The 2017 Career Roundtable is coming up this Friday, November 10. Find out more here. Register to attend here.
Presentation Topic: Following Your Passion and Finding Your Path: How Unconventional Choices Can Shape Your Career.
A non-linear approach to career building can be scary, uncertain, sometimes baffling—and can lead you to the most satisfying and engaging work you could hope for.
Bio: A co-founder of Verge Magazine and the Go Global Expo, Jeff is a well-known voice in the area of international working, studying and volunteering and was writing about gap years before the term even appeared the Canadian Oxford Dictionary. Having worked, studied and travelled on six continents, Jeff is passionate about the important role international experience plays in developing responsible, caring global citizens. He has spoken to audiences across Canada and the United States on subjects ranging from how to plan an international volunteer experience, to developing effective media skills and literacy.
Free to attend! RSVP here: https://goo.gl/forms/A3PCE5k10YGMS2jw2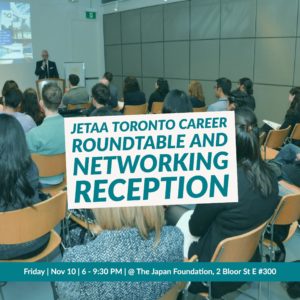 Recently returned and wondering about your next step? Been back for a while but looking to start a new career? We're here to help.
The 5th annual JETAA Career Roundtable is coming up this November. With support from the Consul-General of Japan in Toronto, the event is designed in two parts. In the beginning of the evening, professionals from various sectors will speak to their respective fields. This will be followed by a networking reception to further engage with industry representatives.
In the past, we've had professionals speaking about education, tourism, finance, healthcare, sales and marketing, entrepreneurial, communications, and the non-for-profit industries.
2017 JETAA Toronto Career Roundtable and Networking Reception on Friday November 10 (Kindly Respond by Friday November 3):
https://goo.gl/forms/JLIvLZquMSeEUIRt2
Event Date: Friday November 10, 2017
Event Time: (exact timing subject to change)
JETAA Toronto Career Round Table 6 – 8:30 pm
JETAA Networking Reception 8:30-9:30 pm
Event Address:
The Japan Foundation, Toronto
2 Bloor Street East, Suite 300
P.O. Box 130
Toronto, Ontario, Canada M4W 1A8
http://jftor.org/
By: Maegan Cheng
Did you know that Canada's reference library was designed by Raymond Moriyama? Or that mural outside of Sanko was done by four Japanese artists? Have you ever spotted the cherry blossom trees on the University of Toronto campus?
On Saturday September 30th, JETAA Toronto celebrated the 30th Anniversary of the JET Programme with a sweet scavenger hunt around our beautiful city. Teams raced against the clock and across town, decoding clever clues to find locations to snap their shot and check off their lists. Armed only with TTC day passes and their wits, any of the teams could have triumphed! Congratulations to our winning team – Vesper and Liz – who took their prize in Japan-related stuff!
All participants were winners though as they found our lovely volunteers at selected store locations. JETAA bought the teams taiyaki, onigiri, and small trinkets to relive those halcyon days in Japan at select stores including Muji, Sanko, PAT, and Things Japan.
The time of reckoning came at the Duke of York where we welcomed back the teams and and returning JETs, transitioning into the Returner's Pub Night. Celebrating a fun-filled day with an evening of snacks and camaraderie, it was a great time to play some Cards Against Humanity, make new friends and catch up with the awesome human beings that are former JETs.
While the day officially ended there, Nuit Blanche provided an exciting nijikai for all who had some energy left. Charming and thought-provoking displays were erected across the city to capture hearts and minds.