Here's What's Happening at JETAA Toronto: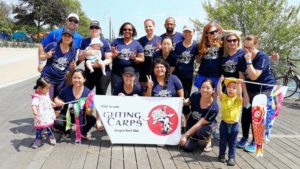 Are you interested in paddling in a group of 20, getting fit, having fun, and raising JETAA Toronto spirit? Our dragon boat team, the Fighting Carps, is looking for more paddlers for its 2017 season.
Join the team for six practices on Tuesday evenings from approx. 
6-9 pm
 at 1 Humber Bay Rd. in Toronto and participate in the GWN Dragon Boat Challenge on 
Saturday September 9 and Sunday September 10th
 at Marilyn Bell Park. Email 
carps@jetaatoronto.ca
 if interested.
Nikkei Voice Business Manager (full-time)
Description
Located within the vibrant Japanese Canadian Cultural Centre, Nikkei Voice is in the midst of an exciting period of transition, as we move our storied publication towards the digital space. We are looking to add a personable, enthusiastic, and business-savvy member to our team! The successful applicant will have the opportunity to work as a key part of a small, dedicated team, building bridges across the Japanese Canadian community.
We want someone who can hit the ground running with new and innovative ideas to drive readership, grow advertising revenue online and in print, provide financial reports, manage payroll, operations, and fiscal year-end tax, and help grow our digital footprint.
Desired Skills & Experience
The successful applicant must have a sound understanding of bookkeeping practices, including familiarity with Intuit Quickbooks, Microsoft Access, Google for Business, the production of monthly financial reports (including spreadsheets, banking and payroll records), and reporting and accounting documents for fiscal year-end purposes. He or she must be highly organized and detail-oriented. An additional and essential task is the operation and management of subscriber information.
This role requires strong communication skills, both over the phone and in person, in support of our valued subscribers. Specifically, the focus would be on maintaining our existing print subscriber base while growing our online presence through cross-platform marketing strategies and advertising. Knowledge of Japanese Canadian history and culture are an asset.
The Business Manager has the opportunity to work with the Managing Editor in maintaining and contributing to the print publication, Nikkei Voice's website (www.nikkeivoice.ca) and social media channels (facebook.com/NikkeiVoice, @TheNikkeiVoice).
Salary
Salary: $30,000
Qualifications:
• Bachelor degree in business management
• Knowledge of fiscal-year end practices
• Experience driving advertising revenue for print and online
• Strong communication and customer-service skills
• Familiarity with databases, Intuit Quickbooks and Microsoft Access
• Highly organized and detail-oriented
• Solid work ethic
• Team player
• Interested in event planning
• Open to Japanese cuisine
• Sense of humour
Company Description
Founded in 1987, Nikkei Voice is a national Japanese Canadian newspaper and an important publication for Japanese Canadian expression and communication. It's published 10 times a year in Toronto by the Nikkei Research and Education Project of Ontario, and operates as a non-profit organization. Issues are 16 pages and published monthly from February to June and September to November. Two 20-page double-issues are published in summer and winter.
***
Interested applicants are asked to send their resume and cover letter to: editor@nikkeivoice.ca by July 14th, 2017. All applicants are welcome.
Position Overview:
We are looking for a resourceful, driven individual with an eye for detail and native proficiency in English and Japanese. Communication skills are paramount, as well as the ability to adapt to fluctuating requirements and priorities. You take responsibility for the quality of your work and get the job done in the required timeframe. Reporting to the Data Quality Manager, the Data Quality Analyst will directly contribute to the quality of our product: DDIQ. This position is full time for the summer term, with the potential for part time in September.
Responsibilities:
Assess output content and performance of the DDIQ System in one or more language and/or region, in addition to English.

Accurately identify events that may be reported in one or more language and/or region, in addition to language.

Report discrepancies in a concise and timely manner through the appropriate channels.

Maintain a high level of accuracy through active participation in individual tasks and team contribution.
Minimum Qualifications:
Strong command of the English language.

Superior reading skills in English.

Native level reading comprehension of Japanese language.

Proficient ability in Microsoft Office Suite.
Additional Desired Qualifications:
Ability to quickly learn and adapt to a dynamic environment.

Proven attention to detail.

Ability to learn new concepts.
About the Company:
We're a dynamic and rapidly growing software company with a high-performing team. OutsideIQ fosters an open, honest, and cooperative environment where delivery focused teams strive for excellence. The whole team is involved throughout the lifecycle of the project and team members maintain continuous customer collaboration. This is a unique opportunity to work in a rapidly-growing, fast-paced organization that is set to change the way our clients do business. We offer a casual work environment, competitive compensation, and flexible work hours.
Interested Candidates can send their resumes to careers@outsideiq.com
It's that time of the year again — the largest Japanese Festival in Canada "Japan Festival CANADA 2017" will be held on August 26th and 27th!! This year's event will include a ceremony to celebrate Canada's 150th anniversary. Let's celebrate this special day together!
Also, as one of the main features of the event, the "Canada – Tokyo Talent Competition", will be held. The event is open to all talented Canadians. The winner will be awarded a round trip airline ticket to Japan, will be eligible to perform at many Canada-Japan collaboration events, have a chance to make their debut in Japan, and more!
We are looking for talented Canadians; it may be you! If you are confident in any category, be sure to send in an application!
ENTRY DEADLINE: Canada Day July 1, 2017
Venue: Japan Festival CANADA 2017 performance stage
Date: August 26th (Sat)  2017 (It may change to August 27th (Sun) 2017)
Final Judges/Panels: TBA
WINNER AWARDS
A free round flight ticket to Japan
Chance to perform at Canada-Japan events
Chance to debut in Japan
For more information, visit:
Japan Festival CANADA 2017: https://japanfestivalcanada.com/
Talent Competition: https://japanfestivalcanada.com/talent-competition/
Presented by Japan Expo Canada Inc.
Supported by Tokyo Tourism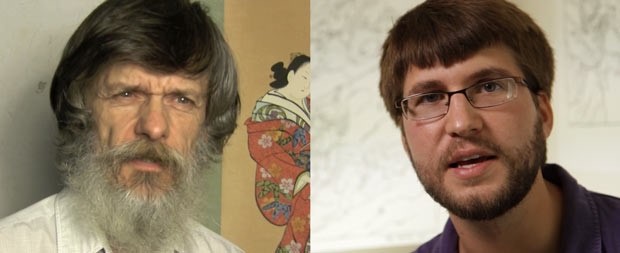 By: Amy Uyeda
On May 2nd, 2017 the Toronto Hot Docs film festival hosted the world premiere of Ukiyo-e Heroes as part of a special programme of Made In Japan films. Ukiyo-e Heroes is a film about woodcut printmaking master David Bull and his collaboration with graphic designer Jed Henry.
David Bull is an English-born Canadian artist who lived in Toronto before moving to Japan permanently in the mid-1980s. He said he first learned of Ukiyo-e prints in Stuart Jackson Gallery in Toronto. David Bull has a strong online presence, including many instructional Youtube videos about his woodblock printmaking practice and his Tokyo live-work space.
Last year, I had the privilege of meeting David Bull at Edo Day, an event hosted by the Consulate of Japan in Toronto at the ROM. David was at the tail end of a 5-hour printing session, having not stopped for an obento lunch break. He is truly a printing machine! He was graciously printing 4-colour demo prints and giving them to eager visitors to his table.  I met a young couple who were longtime fans and customers of his prints and who had driven to Toronto from Rochester, NY just to meet him in person. He warmly greeted them, and it was inspiring to see young collectors because it showed how approachable David is and that his prints are actually quite affordable. David's generosity reflects his dedication to upholding the original intent of Edo-era Ukiyo-e prints: the dispersion of fine art and popular culture among the masses, without clear delineations between the two. For this reason, he does not number or edition his prints. He keeps the woodblocks from which the prints are created and reprints images after their initial runs.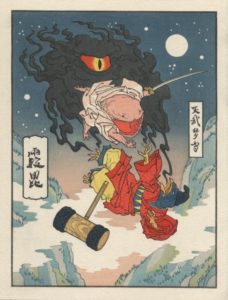 The documentary cuts between interviews with David Bull in his Tokyo studio and Jed Henry in his Utah home and studio, as well as their skype communication. Jed approached David a few years ago after learning of his work online. After a few tenacious attempts at proposing a collaboration, David agreed, and so began their Ukiyo-e Heroes endeavor.  Using imagery from Japanese video games such as Super Mario, Megaman, Pokemon, Kirby, and Shadow of the Colossus,  Jed creates the initial concept design, using video game characters and storylines to compose a narrative image inspired by elements of Edo-era Ukiyo-e prints.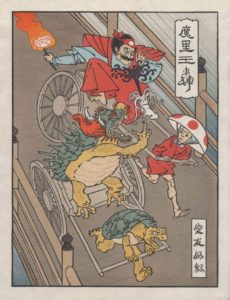 In Ukiyo-e Heroes, David Bull states that the unique quality of Edo art can be summarize in one word –  線 せん –  line. So much visual information is conveyed through the carefully considered line-work of Ukiyo-e artists such as Hokusai, Hiroshige, Yoshitoshi, and Utamaro, to name a few.  Jed creates the original image in digital form, lays the brushwork by hand, then sends scanned images to David. David must think as printmakers do: in layers. He must conceptualize a plan to carve blocks corresponding to each layer of the image, while considering colour separations and the culmination of the overall finished impression. In this way, the finished Ukiyo-e Heroes prints are a pure combination of the line of Jed and David.
Now there are fewer than 10 Ukiyo-e artists printing in Japan. This art form which is considered by many as 'the face of Japan' is a uniquely Japanese traditional form of printmaking. Toronto is fortunately home to a few practicing Mokuhanga – woodblock printmaking artists.
If this timeless and fascinating form of Japanese printmaking piques your interest, please stay tuned for updates about a Beginner Mokuhanga Workshop which will be offered in August 2017!
For more information about Ukiyo-e Heroes prints, and info about David Bull and Jed Henry, click here.
For more information about the Ukiyo-e Heroes documentary, click here.